The Resident Is So Bad It Should Come With a Warning Label
Photo: Guy D'Alema/FOX
TV
Reviews
The Resident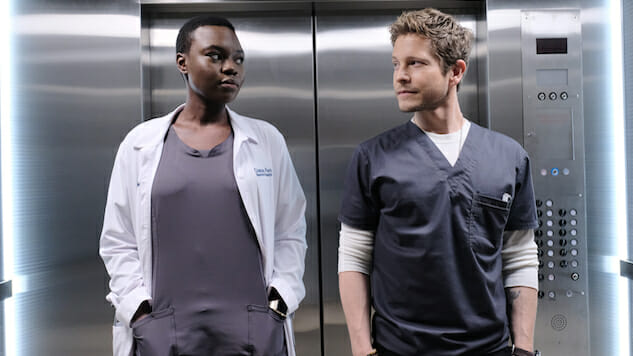 Last year, I wrote a story where I waxed poetically about my love for Grey's Anatomy. I confessed that one of the biggest reasons I loved the show is that it provided medical wish fulfillment. That doctors were smart, caring geniuses who could and would save your life. I like medical wish fulfillment. No, I love medical wish fulfillment.
The Resident, which premieres Sunday on FOX, immediately following the NFC Championship Game, is the opposite of medical wish fulfillment. It should come with one of those red-circle-with-a-slash-through-it warning labels. Do not watch if you are going to the hospital, are in the hospital, have ever been in a hospital, or have a loved one in the hospital. And definitely do not watch if you are a hypochondriac. The entire premise of the series, as nurse Nic (Emily VanCamp) points out to new intern Dr. Devon Pravesh (Manish Dayal), is that "medical error is the third leading cause of death in the United States, after cancer and heart disease."
And so we have the chief of surgery, Dr. Randolph Bell (Bruce Greenwod), who is way past being able to operate and suffers from Shaky Hand Syndrome (or at least that's what I'm calling it, since two episodes in the show hasn't clarified). In the pilot's opening moments, Dr. Bell kills someone during a routine appendectomy. And everyone in the operating room agrees to cover it up. Seriously, do not watch this at home. What's particularly strange about Dr. Bell is that all the characters just seem to accept that he routinely kills patients and there's nothing they can do about it.
Maybe The Resident could be an unflinching look at the hospital industry—if it were a good show. But it's not. It's a bad one. The resident of the title is Dr. Conrad Hawkin, played by Matt Czuchry. And look, Czuchry has perfected playing the lovable bad boy/jerk with a heart of gold on both Gilmore Girls and The Good Wife. But his trademark charm and devil-may-care smile aren't enough to overcome a terrible script and an even worse character. We know Conrad is a rebel sans cause because he has tattoos (a huge one on his back says "Death Before Dishonor") and says things like, "Everything you thought you knew about medicine is wrong." He's also makes racist and vulgar comments. When he instructs Devon to place his fingers up a patient's rectum, he asks, "How tight would you say it is compared to your prom date?" That's just gross dialogue. Of course, everyone thinks Conrad is great and puts up with him because he's a maverick who saves lives.
Like most hospital shows, The Resident is peppered with patients of the week. When a young woman comes in with a heart infection brought on by drug use, Devon continues CPR even when Conrad tells him to stop. He saves the girl's life, but leaves her brain dead. "What they don't teach you in medical school is that there are so many ways to do harm," Conrad tells him. Um, we get it, Conrad. Pipe down.
The drama borrows from many medical show tropes. There are the hook-ups in the empty hospital rooms. The bar they all hang out in after work. The young intern who stands up to his boss. The patients to pull at your heartstrings.
The second episode made available for review (which airs Monday night at 9 p.m.) ends with Nic questioning Dr. Lane Hunter's (Melina Kanakaredes) protocols after she discharges a patient early and Nic is unable to find any record of her medical treatment. Dr. Hunter is a renowned oncologist, but also apparently up to no good. I think we are supposed to care about this.
A standout amidst all this rubble is Shaunette Renée Wilson as the no-nonsense but extremely skilled Dr. Mina Okafor. One can only hope Wilson quickly moves on to another project. Kanakaredes is one of the many characters who were added after the pilot. We still have yet to see Merrin Dungey, who apparently will show up soon as hospital CEO Claire Thorpe.
All 15 seasons of ER were recently made available on Hulu. ABC's Grey's Anatomy is in the middle of its 14th season. The Good Doctor, while flawed, has its appeal. And Fox's other new drama, 911, is dangerously close to being so bad it's good.
There are so many other medical shows you could be watching. Try one of those and call me in the morning.
The Resident premieres Sunday, Jan. 21 on Fox after the NFC Championship Game, before moving to its regular time slot Monday, Jan. 22 at 9 p.m.
---
Amy Amatangelo, the TV Gal®, is a Boston-based freelance writer, a member of the Television Critics Association and the Assistant TV Editor for
Paste
. She wasn't allowed to watch much TV as a child and now her parents have to live with this as her career. You can follow her on Twitter (@AmyTVGal) or her blog .