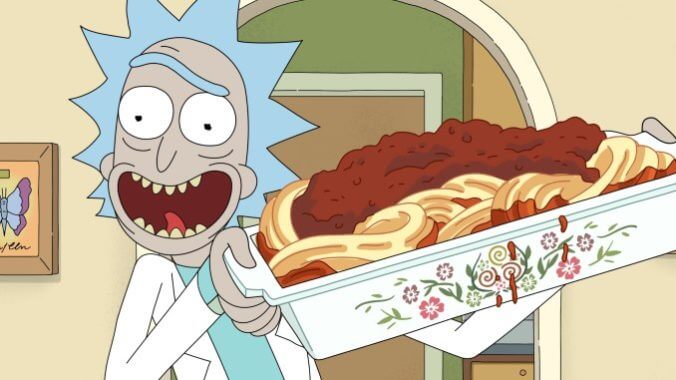 They just keep churning these Rick and Morty seasons out, don't they? Adult Swim has announced that the seventh season of the cartoon smash will be premiering on Sunday, October 15, at 11 p.m. ET/PT. If you don't have cable any more, episodes will be available for purchase online the day after they air on TV, and the whole season will be streaming at some point in 2024. 
It might be long in the tooth but Rick and Morty is still pretty dang popular. It was the highest rated comedy on cable throughout its last three seasons, has won a couple of Emmys, and has spawned countless merch that'll be filling up thrift stores and landfills for decades to come. Adult Swim infamously renewed the show for like the rest of eternity back in the halcyon days of 20-whenever, so you can expect annual "Rick and Morty return date" news posts out of us for at least the next three years. 
Something that won't be returning alongside Rick and Morty is the show's co-creator, Justin Roiland. Adult Swim severed ties with the voice of Rick and Morty earlier this year after he was charged with two felonies stemming from a domestic abuse incident in 2020. (Those charges were dropped in March due to insufficient evidence.) Roiland was replaced by Dan Stevens in his other prominent voice role on Hulu's Solar Opposites; Adult Swim hasn't revealed who will be the new voices of Rick, Morty, and Roiland's other Rick and Morty characters, but producer Steve Levy told a San Diego Comic Con audience that they'll be casting soundalikes to replace the ousted creator. (Paste reached out to Warner Brothers about the changes but has received no response yet.) 
The official press release indirectly jokes about the upcoming voice changes in the kind of meta, self-effacing way you'd expect from the show. Here's the full hype graf from that email.
Rick and Morty are back and sounding more like themselves than ever! It's season seven, and the possibilities are endless: what's up with Jerry? EVIL Summer?! And will they ever go back to the high school?! Maybe not! But let's find out! There's probably less piss than last season. "Rick and Morty," 100 years! Or at least until season 10!