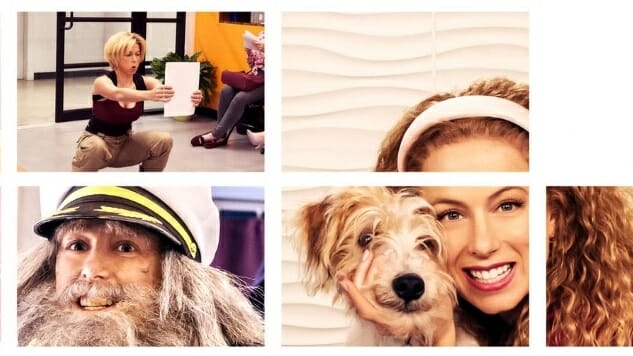 Sketch comedy shows may not have the same prevalence on Netflix as their more popular older brother, stand-up specials, but they have come to occupy a beloved place in the streaming service's offerings. The most obvious example that comes to mind is I Think You Should Leave with Tim Robinson, which garnered high praise from much of the comedy world, including here at Paste. And of course others like Mystery Science Theater 3000 and Astronomy Club should not be overlooked.
Now, these sketch shows have a new counterpart in The Iliza Shlesinger Sketch Show, named for and starring the Last Comic Standing winner. Shlesinger and the other writers do an excellent job of crafting their own strange corner of Netflix, with plenty of recurring segments and references to make it feel like a fully fleshed out world. This is perhaps most effective with Traegus, which shows up not just as a brand of protein powder, but also an omnipresent company and the name of a town in New Jersey. Every time Traegus appears on screen, it's like you're seeing No Face from Spirited Away growing larger in real time. Reappearing bits like this provide texture that enriches the show and rewards a rewatch.
Other bits lose steam after being resurrected so many times, though. "Female Jackass"—which is just what it sounds like, but with punches to the emotional gonads rather than the physical ones—feels played out by the sixth episode, as do the "Mom Alerts," an app which sends you nonsensical warnings not unlike a mom's texts. Both are great concepts and effective… on the first few occasions. Unless expectations are disrupted, the joke only works so many times. Shlesinger and the ever-adaptable cast are no sketch slouches though, bringing their all to even the most half-baked goofs.
As the show continues and its portfolio of sketches grows thicker, the pace ramps up so that during the last two episodes, I often found myself rewinding. Cuts that quick require every joke to be punchy, but often the bits fall short in such a way that we just feel winded by the intermittent bursts of lukewarm comedy. Time for the segments to breathe, perhaps through interludes like those on Tim Robinson's I Think You Should Leave, would be a welcome addition.
Despite its occasional shortcomings, The Iliza Shlesinger Sketch Show has enough moments of surreal humor and the odd stroke of genius to keep your interest piqued. The most iconic character to emerge from the hit-or-miss sketches has to be Cashew Albacore, aka Shlesinger dressed up like a deranged sea captain. Fingers crossed we see some die-hard fans go as the eccentric inventor of cravats for Halloween. Plus, Beelzebubbly is a fantastic name for an alcoholic beverage (the hellish drink is "harder than wine, softer than blood"). There's a lot to grow on if a second season happens; for now, let's be content that Shlesinger and crew have given us something to fill the sketch void for the moment.
The Iliza Shlesinger Sketch Show is now streaming on Netflix.
---
Clare Martin writes about comedy, music and more for Paste.