While Microsoft had tackled—and even popularized—the convertible form factor with its Surface Pro and Surface Book series, the company never made a laptop with a pure clamshell form factor. With the launch of the Surface Laptop this year, that completely changed and Windows 10 now has a home on Microsoft's home-grown premium hardware in a clamshell form factor.
While the Surface Laptop has the chops to take on premium notebooks from Apple like the MacBook Pro, its design and intended user experience tell a different tale. Rather than shipping with the full version of Windows 10 Pro, the Surface Laptop comes out of the box with Windows 10 S, a more limited Windows 10 experience.
In practice, Windows 10 S is similar to Windows RT—the crippled and now defunct version of Windows 8 that ran on less powerful ARM-based processor. However, as it's based on Windows 10's new UI with an improved Start menu, Windows 10 S feels much more powerful than Windows RT. It's powered by Intel's powerful laptop processors, and it supports even better multitasking with the ability to run Windows Store apps in resizable windows, giving the OS a more desktop-like feel.
These features go a long way to make people forget about the debacle of Microsoft's RT launch, and in practice, Windows 10 S feels like a premium Chromebook competitor, or at least Microsoft's riff on what a Windows 10-equipped Google Chromebook Pixel, should be, complete with Intel's latest 7th Generation processor.
A Windows Life with Walls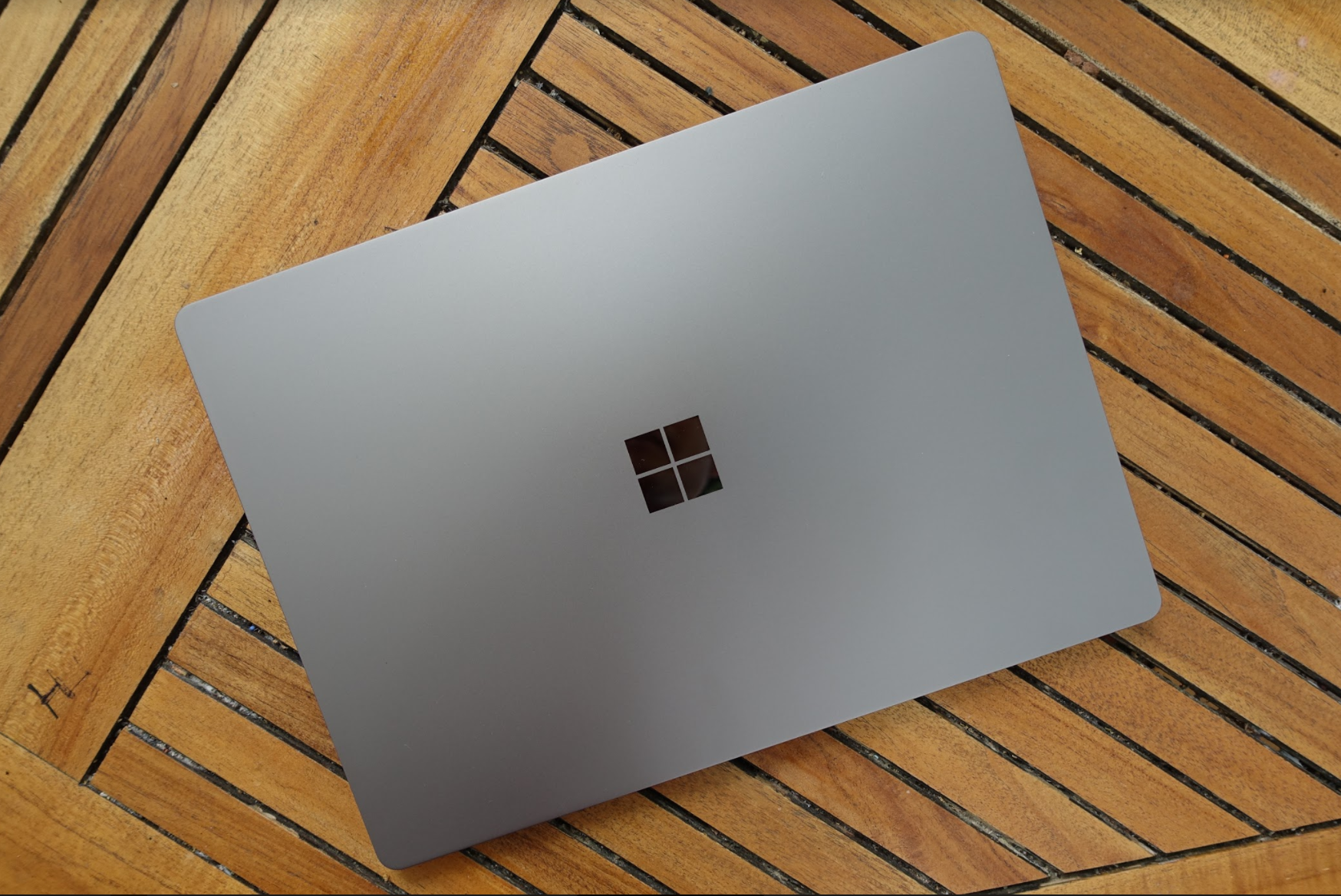 Microsoft claims that 10 S offers benefits to certain verticals, like education and enterprise, because it's more secure—not being able to sideload programs means you're less susceptible to viruses and malware—and is more easily manageable if deployed as a fleet. Like Chrome OS, Windows-as-a-service (WaaS) means that the system is continuously kept up-to-date through automatic software updates.
With 10 S under the hood, you're essentially limited to Microsoft's experiences along with third-party apps from the Windows Store. Windows Mail, Calendar, People and Photos hubs are still intact, as are the new Paint 3D, Windows Maps, Microsoft Solitaire Collection, OneNote, Skype and a new Store build of Office. Though Microsoft's Windows Store app selection is paltry when compared against mobile app stores from iOS and Android—even the Edge browser's selection of extensions and add-ons pales what's available on rival Chrome, Firefox and Opera browsers—the selection should fit most users' basic computing needs.
Students at educational institutions that have adopted Google Apps can access Google Docs, Drive, Sheets and Slides through the Edge browser, but you won't be able to install Chrome for these experiences. Still, it's hard to recommend Windows 10 S given its limited app selection at a time when Google is bringing support for Android apps to run on Chrome OS.
If you need a more robust system or are an enterprise user looking to install your company's own programs and tools, you can escape the limits of the Windows Store and 10 S by taking Microsoft's get out of jail free card. Through the end of the year, Microsoft is offering a free upgrade license to Windows 10 Pro for early adopters of the Surface Laptop, but the company hasn't detailed pricing or details for stragglers who don't take advantage of the offer during this promotional period.
Upgrading to Windows 10 Pro brings all the benefits of Windows, and the Surface Laptop's premium hardware specs make this system more than capable. Given that it's based on the same hardware as the Surface Pro, all this power feels wasted in the confines of 10 S, no matter how speedy the experience feels in Microsoft's walled gardens. Unless you're the most basic of PC users, or you're getting the Surface Laptop through your work's or school's IT department, I'd recommend upgrading to Windows 10 Pro right away—it isn't any more difficult to use, as both 10 and 10 S are based off of the same user experience—and you'll be able to, at the very least, install your favorite browser if you're not a fan of Microsoft Edge.
Design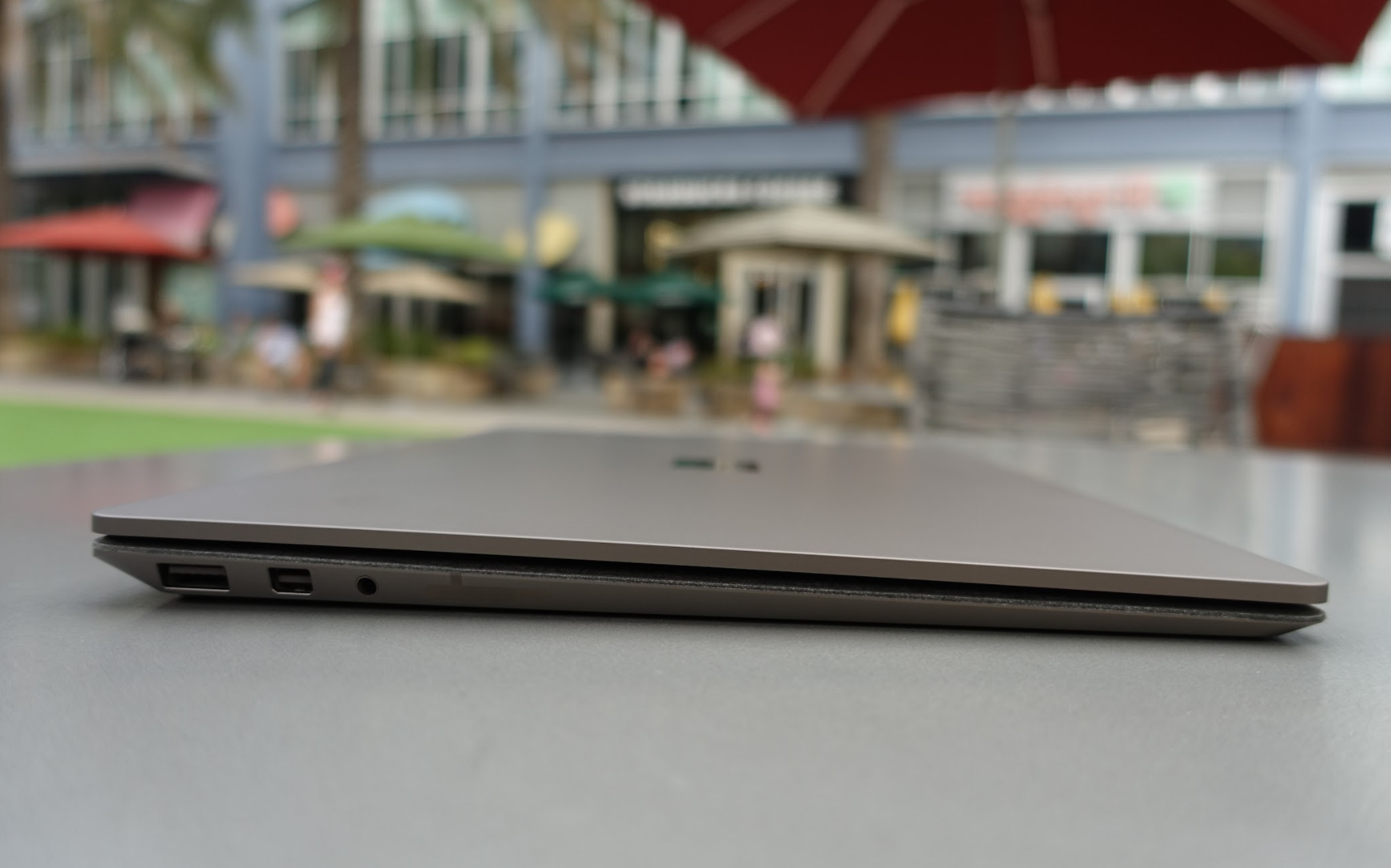 On the surface, other than Microsoft's shiny and unmistakable Windows logo that adorns all members of its hardware family, the Surface Laptop looks like most other premium Ultrabooks on the market today. It sports a minimalist unibody metal chassis with sharp edges and rounded corners, is slim and sleek, and comes in a lightweight package weighing just 2.76 pounds for our Intel Core i5 model (the Core i7 comes in a little heavier at 2.82 pounds). The flat and angular lid fits right in with the Surface design identity.
The laptop is very slim and comes in a wedge shaped design. It is slightly tapered, so that it's even slimmer in the front. At its thickest, the Surface Laptop measures just 0.57 inches, and the modestly narrow bezels give it a compact 12.13 × 8.79-inch footprint. The dimensions are similar to what you'll find on a MacBook Air.
Around the sides, you'll find a limited array of ports. On the left side, there's a standard USB Type-A port, Mini DisplayPort and audio jack, while the magnetic (!) Surface Connector is found on the right side for power. The top of the laptop is slightly larger than the tapered base, giving it a nice tapered look, and the hinge is sturdy, giving it a very solid feel.
Despite its grown up anodized metal build quality, unlike the Surface Book and Surface Pro, the Surface Laptop feels more whimsical with its four different color choices. It's available in matted shades of Cobalt Blue, Burgundy red, Graphite Gold and a sleek Platinum silver. The aluminum silver looks similar to the finish on the Surface Pro, while our review unit in Graphite Gold looks more like a titanium gray than Apple's gold-hued iPhones. There is a subtle hint of gold when you look at it from an angle.
Keyboard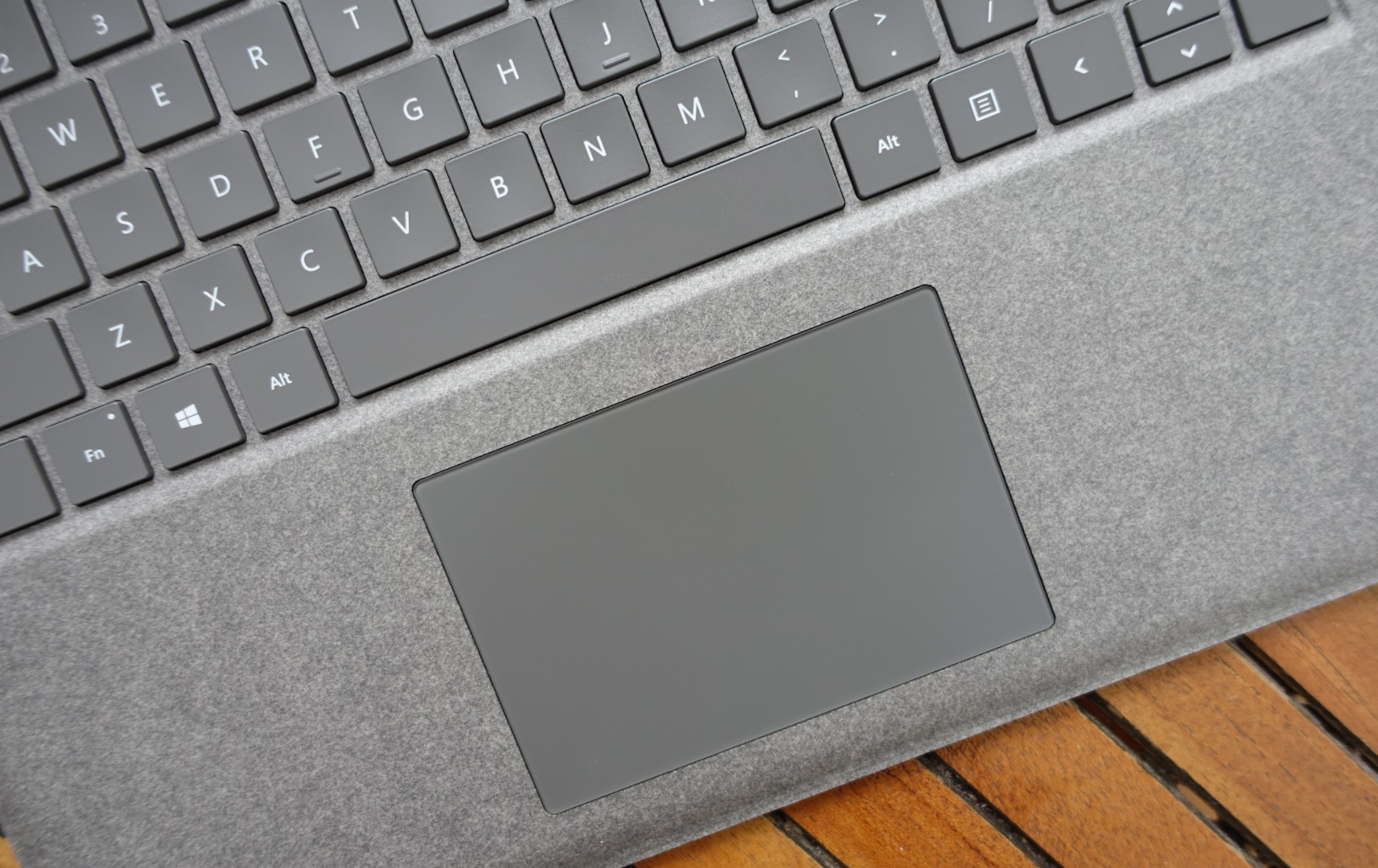 Once you open up the lid, you'll find the same matching color on the fabric covered keyboard deck. The keyboard deck is made of the same premium Alcantara material that's used in luxury cars, and Microsoft has been exploiting this material on its Type Cover keyboard for the Surface Pro series since last year.
In person, the effect of the plastic key caps—in a matching shade of color—floating on a sea of Alcantara fabric looks visually appealing, but it's even more stunning from a tactile angle. Whereas most competitors have metal-clad keyboard deck, the fabric material is inviting to touch and feels warm when you rest your wrists to type. It's a small design change that goes a long way to keeping up the luxury image that Microsoft is chasing. The fabric makes the Surface Laptop feel like it's artisan crafted.
While the Alcantara material seems to be easily wipeable, I am not convinced that it will hold up against dirt, dust and skin oils over time. Personally, I think I would prefer a solid metal surface, as you can easily spray that down to keep the keyboard clean. On the Surface Pro, Alcantara is less of an issue for me, as you can always replace the keyboard if it shows heavy wear or if things got dirty.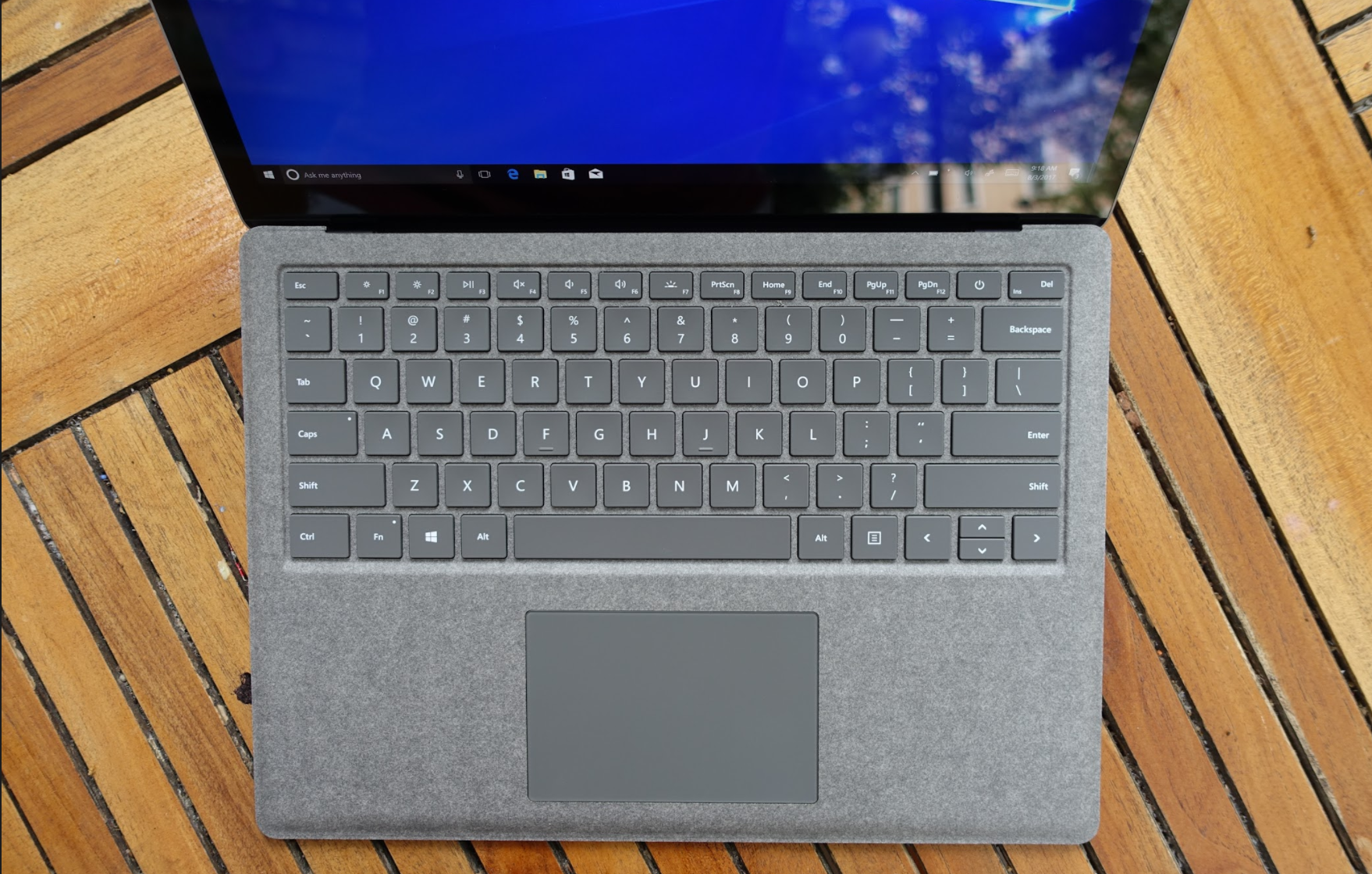 And even though it's stylish, there is substance with the Microsoft's keyboard design, providing a rather deep 1.4mm of key travel. Compared to the ThinkPad X1 Yoga that I recently review, the key caps on the Surface Laptop feel a little flat, but typing is quiet and the experience is still very, very good and slightly better than the Surface Pro's Type Cover.
Below the keyboard, there is a very spacious trackpad. While the Surface Pro's Type Cover comes with a wide trackpad, the Surface Laptop's trackpad also is larger than most Ultrabook's in the height department, giving you plenty of surface area to scroll, pan and perform gestures. Scrolling is very smooth. The Surface Laptop's keyboard is one of my top favorites on a Windows system, and the spacious trackpad gives it an MacBook-esque feel, providing an ample canvas to support Windows 10's gestures.
Hidden beneath the Alcantara cover are the speakers, which despite being covered a sueded fabric, pumps out plenty of noise for a system this small. The speakers are tuned with Dolby Audio Premium, and audio fidelity is good. The volume gets loud, and even at higher volumes, there is very minimal distortion to the speakers here.
Microsoft's Missed Op[port]unity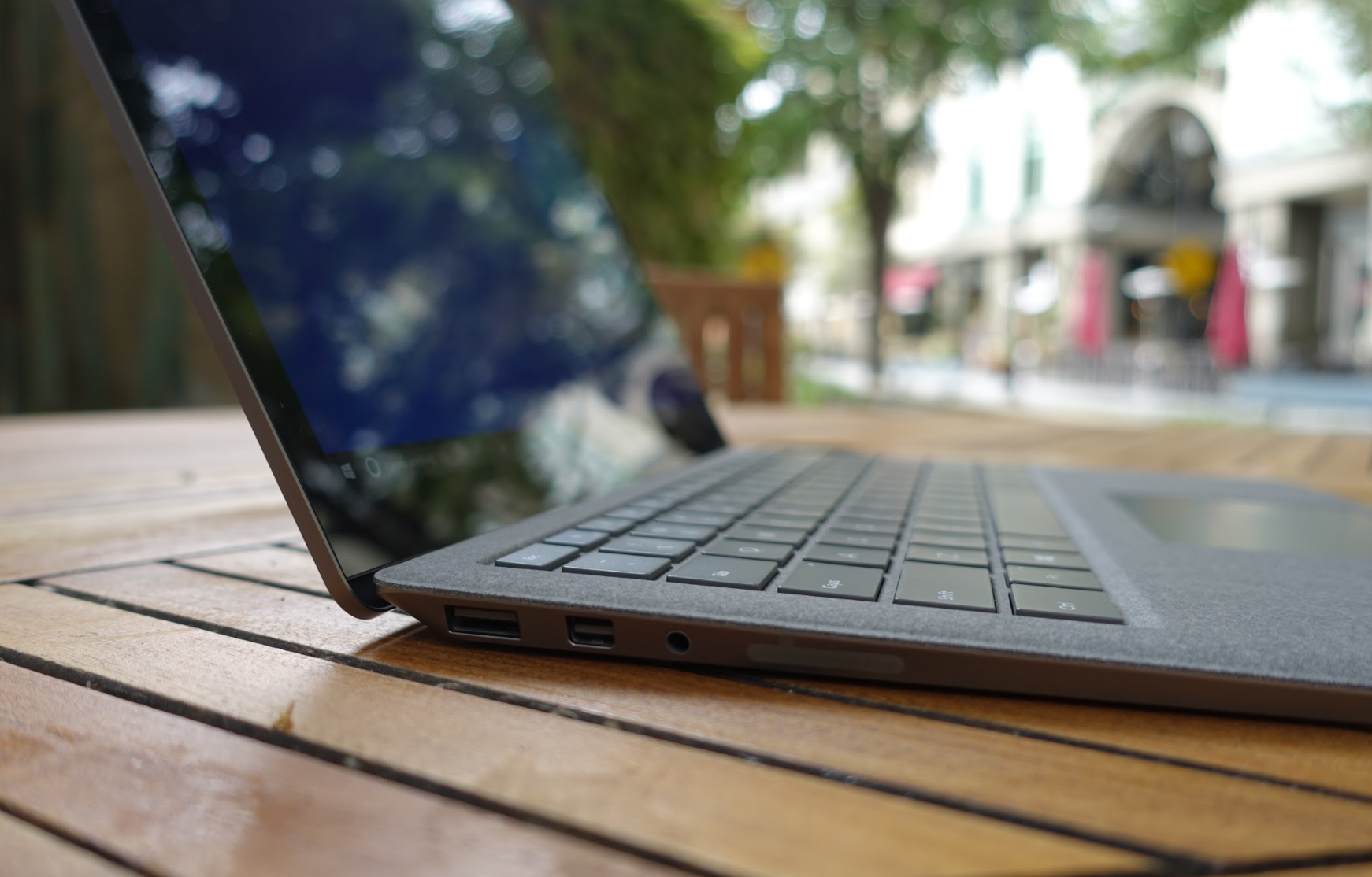 While Microsoft should be commended with supporting the USB Type-A port so you don't need to live the dongled life with adapters, like on the latest MacBook Pro models, the Surface Laptop feels somewhat immediately dated. While other Windows OEMs are rapidly adopting USB Type-C as the future of ports on their latest systems—some even go as far as supporting Thunderbolt 3 specs for even faster future-proof connectivity—Microsoft's port selection could potentially make the Surface Laptop feel out of date in several years.
If you're buying this laptop today for use as a freshman in college and intend on keeping the system for all four years of school, perhaps this doesn't really matter—it will take a bit of time for USB Type-C to be the de facto standard. However, if you're looking at the future, you may encounter compatibility issues when you need dongles to connect USB Type-C flash drives and peripherals to your USB Type-A port a few years down the road. This means that while your classmates may be living the dongled life today, you will live the dongled life in reverse in the future as connectivity standards change.
Even more troubling than the absence of USB Type-C is the lack of ports on this device. For a laptop, I'd like to see at least two USB ports. The feature that I appreciate most on this laptop is the magnetic charging connector, which automatically unlatches the power cable should you trip over it. Apple, sadly, ditched its MagSafe standard when it switched to USB Type-C on its latest notebooks.
Display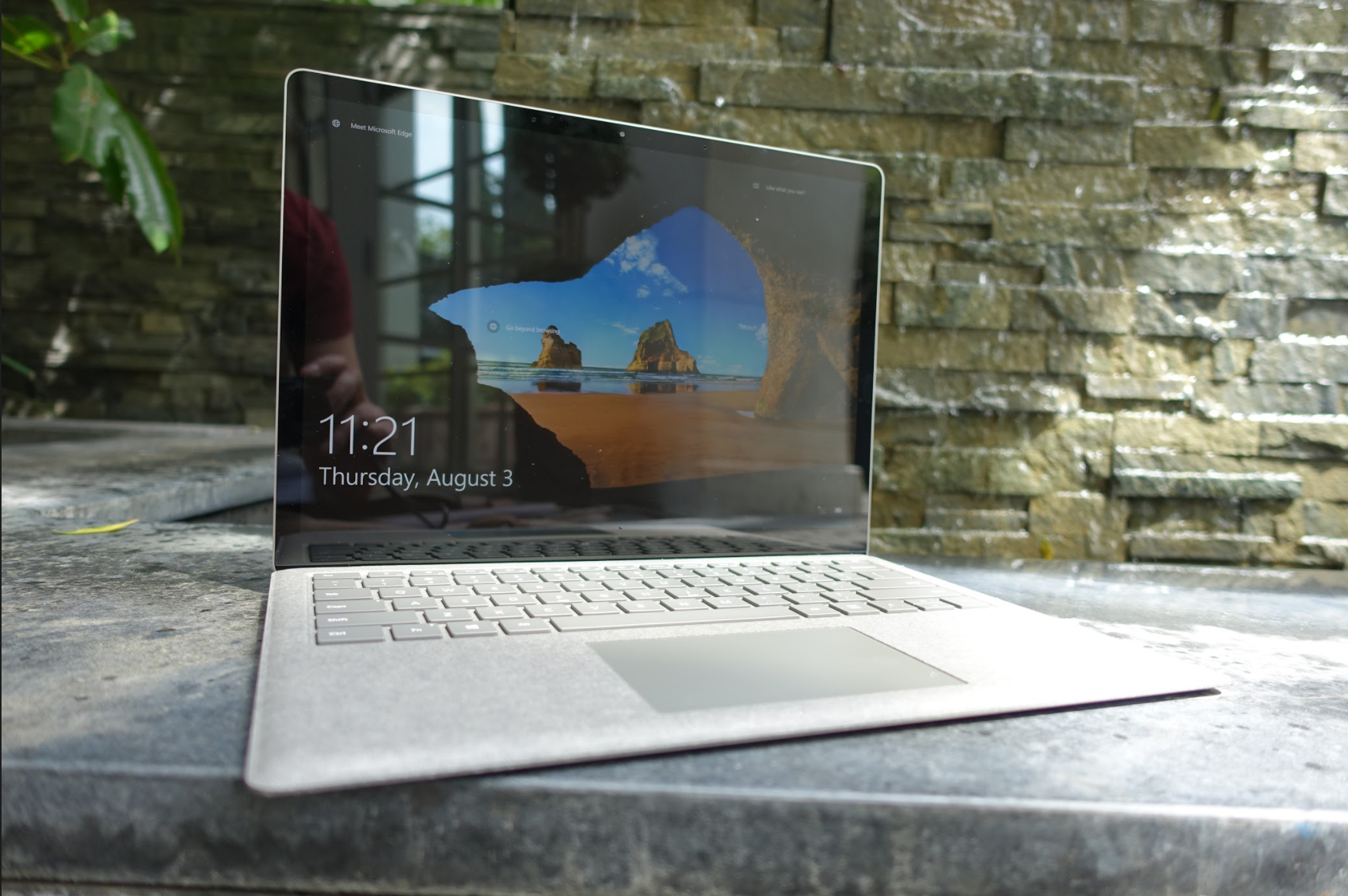 The 13.5-inch 2,256 × 1,504-pixel display screen is another bright point for the Surface Laptop. There is still a bit of bezels around the edges, so it doesn't have the nice infinity displays like on contemporary rivals such as Dell's XPS 13 or HP's Spectre x360, but the bezels aren't distractingly huge like on our Razer Blade Stealth review unit.
I really appreciate the 3:2 aspect ratio that's standard across the Surface line. You'll get letterboxing when watching movies, which are typically rendered in 16:9, but 3:2 is far better for productivity. The taller screen means there's less scrolling when you're viewing long documents or working in large Excel spreadsheets.
The screen supports touch as well as pen input, and you can even use the Surface Pen to make notes and draw. I didn't have a pen to test, but it's unclear how much value you'll get trying to jot notes on a laptop screen, as pen support feels more appropriate on tablets and convertibles. At times, I wish I was able to rotate the screen around on a 360-degree hinge, like on other Windows 2-in-1 systems, to convert the Surface Laptop into a tablet. This would come in useful for taking handwritten notes on OneNote in class. Outside of the classroom, students will be able to read the display fine outdoors, given the bright 400-nit display. Color reproduction is very accurate, and in general images and text appear sharp on this screen.
There is a 720p HD webcam with an IR camera above the screen that's used for Windows Hello login. The stereo microphones are great for web calls and do a good job of canceling background noise.
Specifications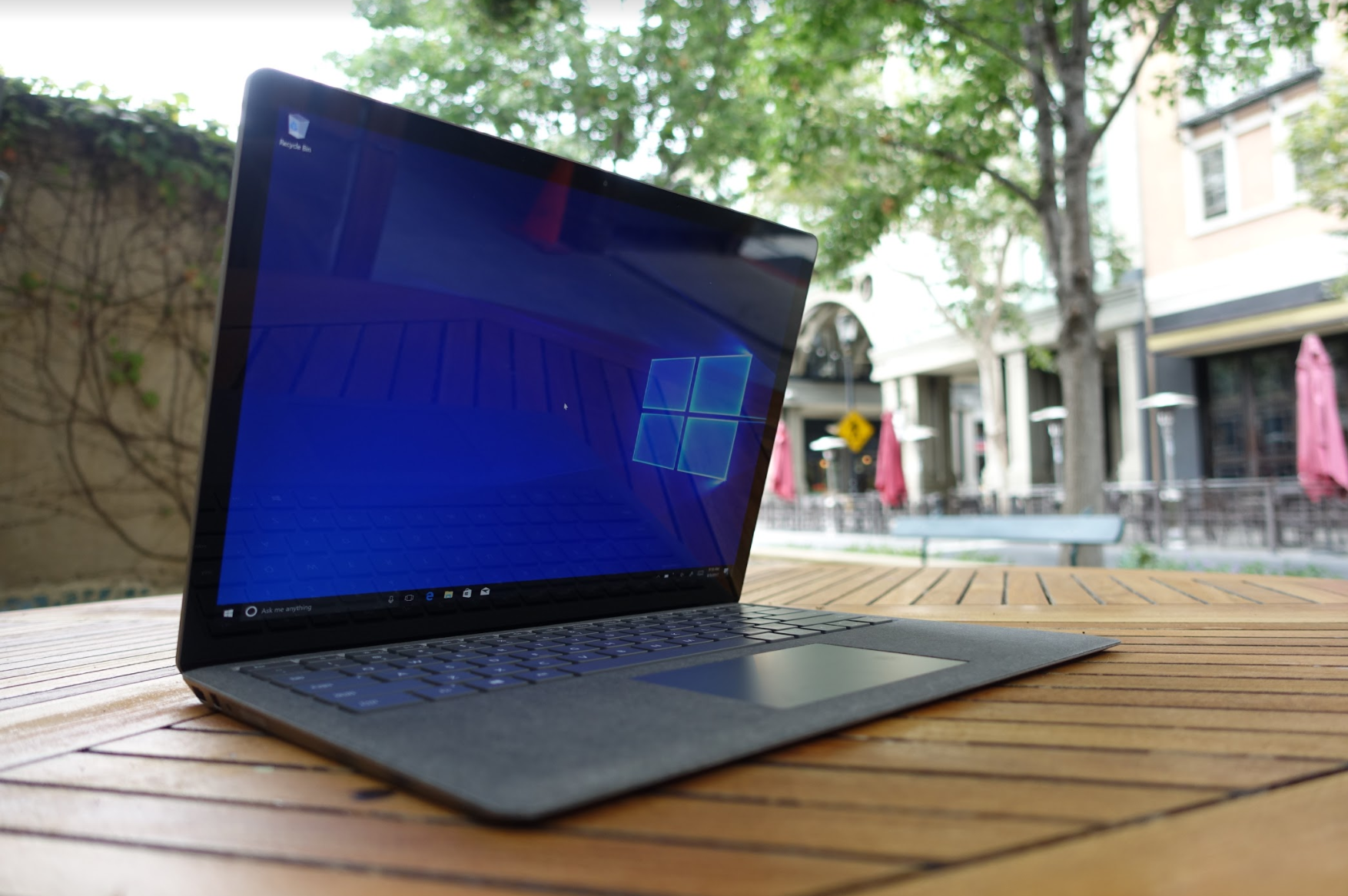 The Surface Laptop starts at $999 for an entry level configuration with an Intel U-Series Core i5 processor (the same that's on the Surface Pro), 4GB RAM and 128GB of storage. My review configuration shipped with the Core i5 processor, 8GB RAM and a 256GB SSD for an upgraded price of $1,299. A top of the line configuration with an Intel Core i7 processor, 16GB RAM and a 512GB solid state drive is also available at $2,199.
The Core i5 models rely on Intel's HD 620 graphics, while the Core i7 model gets upgraded to Intel Iris Plus Graphics.
Pricing for the Surface Laptop is very similar to the standalone Surface Pro tablet before you add in the cost of the Type Cover. For students who primarily rely on the laptop form factor for productivity, going with the Surface Laptop will save you the cost of the keyboard cover accessory, and you'll still benefit from the performance, touchscreen and pen input support that the Surface Pro offers. Additionally, if you're working in a packed lecture hall, the Surface Laptop's clamshell design also makes it a lot easier to use with its lapability factor.
Performance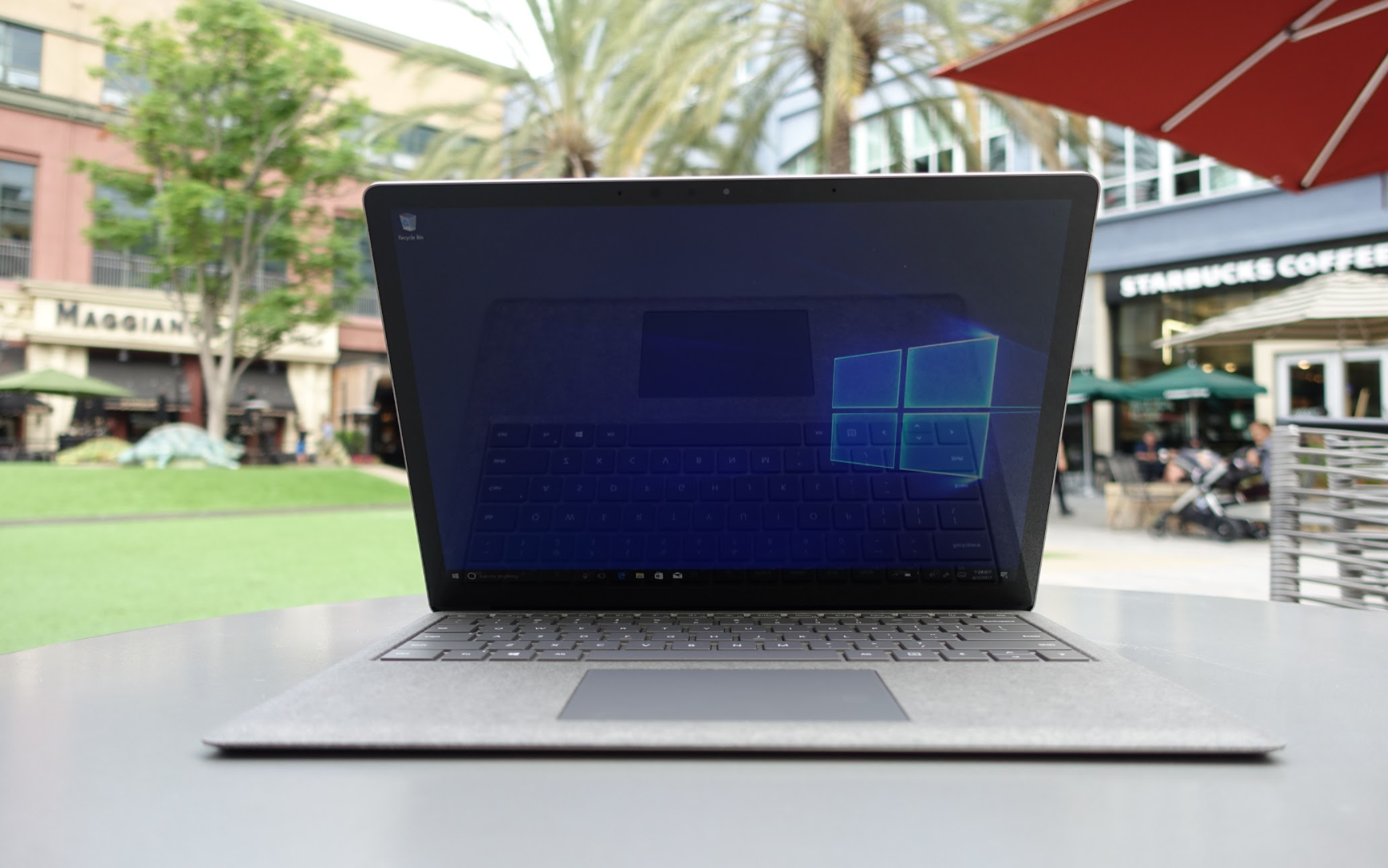 Like its Surface Pro sibling, performance is speedy with the Surface Laptop, given that the two systems are based off of similar Core i5 and Core i7 Intel U-Series processors. These are Intel's performance-driven mainstream laptop processors, and not the more power efficient Y-series that were previously branded as Core m.
I never encountered any lags or performance issues when multitasking on the Surface Laptop, even when multitasking, but that's to be expected given the more confining restraints of the Windows 10 S ecosystem. I wasn't able to run more intensive programs, like Adobe's full Creative Suite, for example, to tax the processor and integrated Intel HD graphics. The Chrome browser is also a no go for 10 S as well.
The benefit to working in a confined ecosystem is that you'll get better battery life. Microsoft rates battery life at 14.5 hours, but in real world usage, I got more than eight hours of use on a single charge. Even under stress—watching videos in multiple Microsoft Edge browser tabs and downloading files in the background—the Surface Laptop manages to keep its cool. The laptop was never too hot to touch, but unlike the similarly configured fanless Core i5 Surface Pro, this notebook got loud. The Surface Laptop relies on fans to keep cool, and there are air vents on the rear just below the hinge.
To perform my benchmarks, I utilized Microsoft's free upgrade to Windows 10 Pro, which allowed me to install popular tools like PCMark, 3DMark and others. Unsurprisingly, given the premium specs on the Surface Laptop, running Windows 10 Pro didn't slow down the system, and performance was very similar to the similarly configured Intel Core i5 Surface Pro with 8GB RAM. The small differences in benchmark results for the Surface Pro and Laptop running PCMark 8, 3DMark TimeSpy, Cinebench and PCMark 10 tests were negligible. Both systems are among the fastest I've seen, thanks in part to a clean build of WIndows without any unnecessary preloaded software.
Home, business and even student users upgrading to Windows 10 Pro will find plenty of value out of the hardware on the Surface Laptop, but this comes at a cost to battery life. Under Windows 10 Pro, battery life takes a hit, shaving more than an hour from the 10 S battery life number. Still, this should provide most users close to a full business day of battery life.
Verdict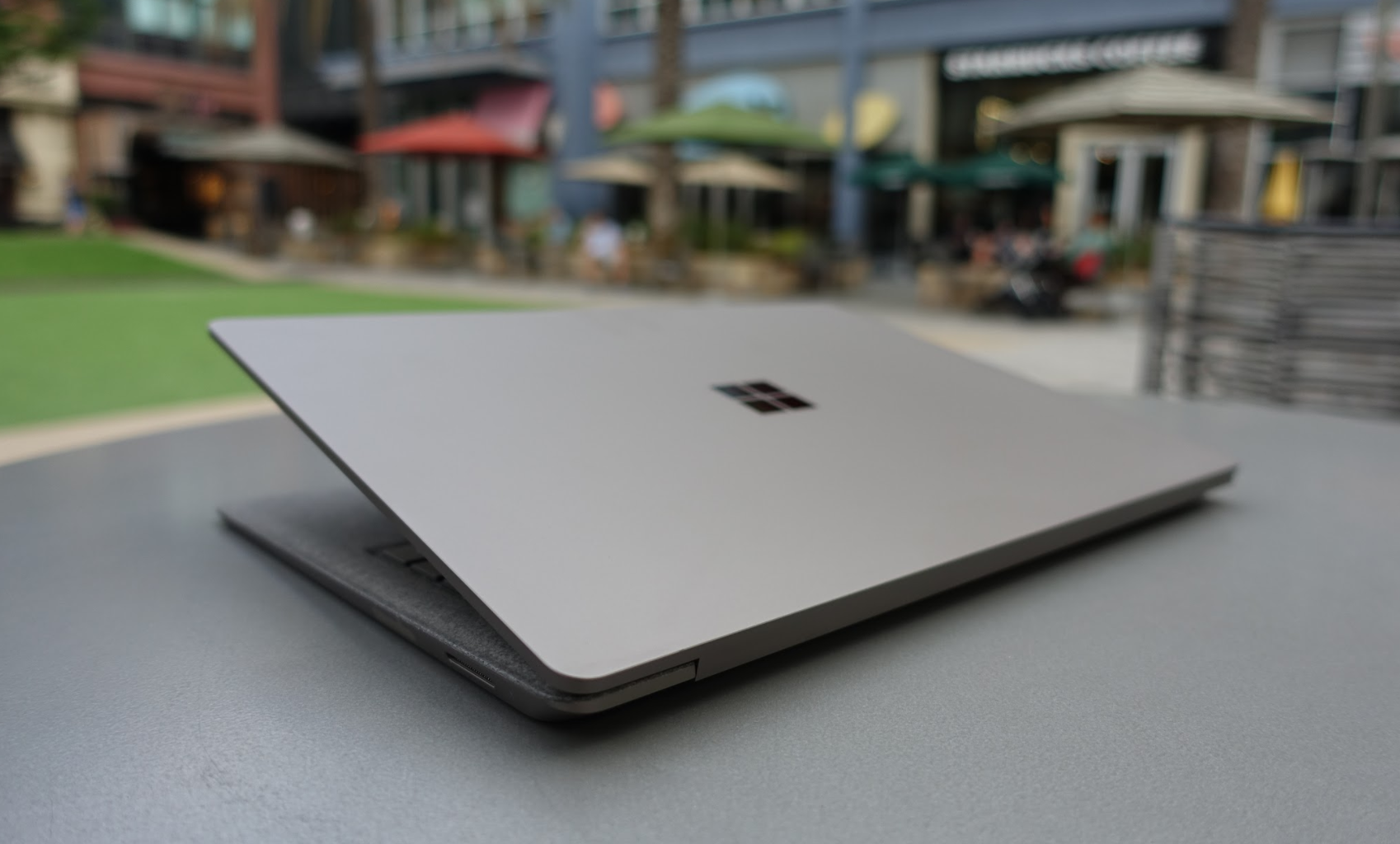 As Microsoft envisioned it, the Surface Laptop is a premium canvas to showcase the user experience of what Windows 10 can delivered. By creating a more limited version of Windows in the Windows 10 S OS that comes preloaded on the Surface Laptop, Microsoft has created a more secure, easier to manage and ready to deploy system for education and certain enterprise markets. The Surface Laptop is a Chromebook competitor, hampered by a limited app store and even more limited browser extensions for the native—and the device's sole—Microsoft Edge browser.
But the Surface Laptop also offers users choice and flexibility. If you need a more robust system, Microsoft provides an upgrade path to Windows 10 Pro, and given the system's more than capable hardware, you'll still get fast performance with the same internal hardware as Microsoft's Surface Pro tablet. With such capable hardware, it seems almost inexcusable that Microsoft didn't add some future-proofing—USB-C is glaringly absent, and the limited number of ports on this laptop makes it feel more like a netbook than an Ultrabook.
At $1299, you can find cheaper options or ones with better specs, but none of these systems come wrapped in Alcantara fabric. Unless you're set on Windows 10 S, HP's 13-inch Spectre x360 represents a better value at that price—it has a convertible hinge, comes with twice the RAM and double the storage and supports Thunderbolt 3 over USB Type-C. The Surface Laptop places a large premium for design, and if you're willing to pay to play, then Microsoft's debut notebook will give you fast performance, long battery life and plenty of style, especially if you're able to take advantage of Microsoft's free upgrade path to Windows 10 Pro through the end of the year.