Meet the Hunters in New Trailer for Al Pacino-Starring Amazon Series, Coming in February
Photo by Christopher Saunders / Amazon Studios
TV
News
Hunters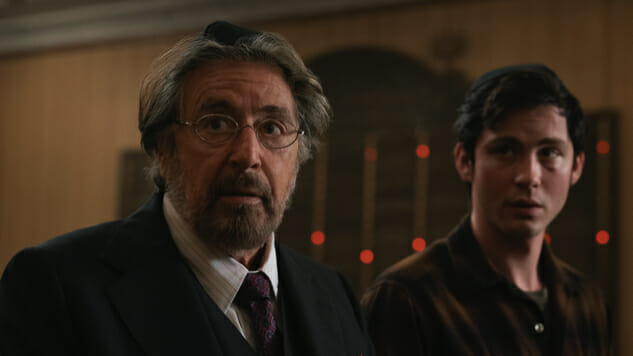 Al Pacino and his Hunters are headed to Amazon in February, as revealed in the latest trailer for the Jordan Peele-produced period thriller originally known as The Hunt. The game is afoot, and it looks mighty dangerous.
Created by David Weil and inspired by true events, the new 10-episode series stars Pacino as Meyer Offerman, the leader of a diverse band of Nazi hunters living in 1977 New York City. Upon discovering that hundreds of escaped Nazis are living in the United States, they do what any badass vigilante squad would do, setting out on a bloody quest for revenge and justice. But they soon discover a far-reaching conspiracy and must race against time to thwart the Nazis' new genocidal plans.
The trailer opens on Logan Lerman's Jonah Heidelbaum, a young Jewish man attending the funeral of his Holocaust survivor grandmother, who was shot to death by a home invader. He harbors suspicions that her death was no random burglary gone wrong, but that she was targeted, and Meyer, who knows Jonah's grandmother from the Nazis' camps, nudges him towards rough justice: "You know what the best revenge is?" he rasps. "Revenge."
Meyer pulls back the curtain on all the Nazis hiding in plain sight Stateside, revealing that he and Jonah's grandmother actually created The Hunters together—it's a bit like Harry Potter meets Inglourious Basterds. "You're a Nazi hunter, Harry!" Jonah joins up with Meyer's eclectic band of outlaws, teaming with Tiffany Boone's lock-picker, Kate Mulvany's spy, Louis Ozawa Changchien's soldier, Josh Radnor's master of disguise, and Saul Rubinek and Carol Kane's weapons experts to take down the would-be Fourth Reich and "bring God's justice," as Meyer puts it. Meanwhile, Jerrika Hinton's FBI agent leans on Jonah to get justice the "right way," warning, "You do this, you become the evil you are fighting."
Hunters is produced by Amazon Studios, Peele's Monkeypaw Productions and Sonar Entertainment, and executive produced by Weil, who serves as co-showrunner alongside executive producer Nikki Toscano. Alfonso Gomez-Rejon (Me and Earl and the Dying Girl) directs the pilot episode and executive produces alongside Peele, Win Rosenfeld of Monkeypaw, Nelson McCormick, and Tom Lesinski of Sonar.
Hunters streams on Prime Video starting Feb. 21. See the show's new trailer and poster below.