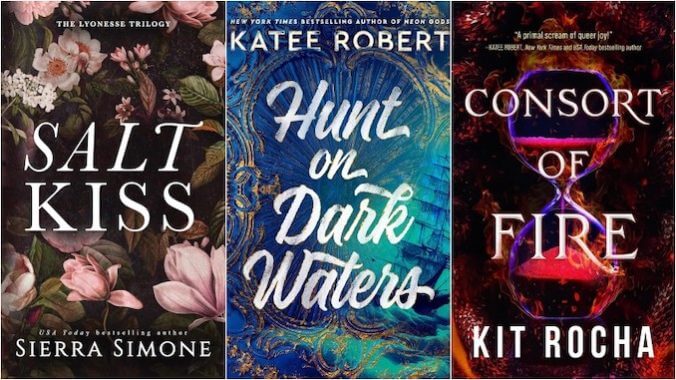 Ah, Fall—that season that not only begs but demands ample reading opportunities. Whether it's the shift into cooler weather (depending on which part of the world you live in, that is), the lean into pumpkin-flavored everything, or the back-to-school energy that permeates through, this time of year has always felt inexplicably linked to books for me. Maybe that's why I've felt newly reenergized after a prior reading slump, and looking ahead to all the romance books releasing over the next few months, there's plenty to get excited about.
From emotional entanglements both on and off the sports field to the first book in an exciting new genre romance imprint, from witches and pirates and gods and warlords to childhood friends turned unabashed enemies, this year's fall romances are so thrilling it was genuinely tough to narrow it down to even this list—but hopefully, as always, you'll find something tailor-made for tucking into this season.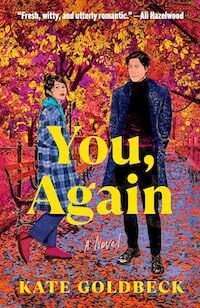 You, Again by Kate Goldbeck
Release Date: September 12 from Dial Press
Why We're Excited: If the cover alone isn't enough to hook you already—When Harry Met Sally vibes blended with that absolutely perfect aesthetic for the autumn season—then perhaps the conceit of Goldbeck's debut romance will achieve the rest. 
These days, it can be a gamble when you pick up any romance novel to know what you'll find within the pages, but based on early reviews, this book is not afraid to embrace the steam to its betterment, while also offering a more modern, slightly angstier, and refreshingly welcome take on the classic rom-com. There's no doubt in our minds that Nora Ephron herself would approve.
Publisher's Description: When Ari and Josh first meet, the wrong kind of sparks fly. They hate each other. Instantly.
A free-spirited, struggling comedian who likes to keep things casual, Ari sublets, takes gigs, and she never sleeps over after hooking up. Born-and-bred Manhattanite Josh has ambitious plans: Take the culinary world by storm, find The One, and make her breakfast in his spotless kitchen. They have absolutely nothing in common . . . except that they happen to be sleeping with the same woman.
Ari and Josh never expect their paths to cross again. But years later, as they're both reeling from ego-bruising breakups, a chance encounter leads to a surprising connection: friendship. Turns out, spending time with your former nemesis is fun when you're too sad to hate each other–and too sad for hate sex.
As friends-without-benefits, they find comfort in late-night Netflix binges, swiping through each other's online dating profiles, and bickering across boroughs. It's better than romance. Until one night, the unspoken boundaries of their platonic relationship begin to blur. . . .
With sharp observations and sizzling chemistry, You, Again explores the dynamics of co-ed friendship in this sparkling romantic comedy of modern love in all its forms.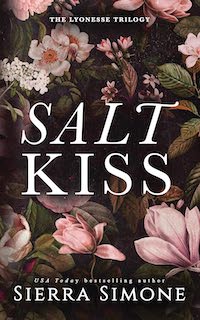 Salt Kiss by Sierra Simone
Release Date: September 12 from Bloom Books
Why We're Excited: If you're anything like us, you read through the emotional rollercoaster that was Sierra Simone's New Camelot trilogy while steeling yourself internally for whatever sweetly excruciating heartbreak would be doled out in the process. Longtime fans of those books might be interested in knowing, then, that Simone's newest book is somewhat connected to that same world, only this time it revolves around a wholly different triad to get obsessed with. Loosely inspired by the classic tale of Tristan and Isolde, Salt Kiss continues the story irresistibly set up in the prequel novella Salt in the Wound and promises even more of what Simone has come to be known for in romance: devastating, lyrical prose and characters that wound you in the best of ways.
Publisher's Description: Tristan Thomas is lost. After leaving the Army, the young former soldier is in limbo. Until, that is, he's hired by Mark Trevena, the owner of Lyonesse—DC's ultra-secret club—to be Mark's new bodyguard. He's drawn into Mark's dark, seductive world of power and desire, and slowly drawn to Mark himself, even though Mark is everything Tristan knows he shouldn't want: cruel and wicked and shamelessly amoral.
But protecting Mark isn't Tristan's only duty: soon, Mark asks him to guard his soon-to-be bride as she travels home from Ireland on Mark's yacht. Tristan is jealous—and hurt to learn that the object of his obsession is engaged—but the soldier in him is made to obey orders, and he goes to fetch Mark's bride for him.
Isolde Laurence is nothing like Tristan expected, however. Young, quiet, and sharp, she's being pushed into this marriage by her family, and as the two travel back to America, Tristan finds himself fascinated with Isolde and the glimpses he gets of the lonely but determined woman behind her reserve. And the fascination is mutual: one night, while sailing under the cold stars, they share a searing kiss.
From there, it's a fast fall into the forbidden.
But in Mark Trevena's world, the fall is only the beginning…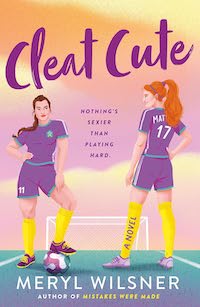 Cleat Cute by Meryl Wilsner
Release Date: September 19 from St. Martin's Griffin
Why We're Excited: Many of us have had soccer on the brain lately—not just because of Ted Lasso (although, seriously, where's my AFC Richmond women's team spin-off, Apple?) or the recent World Cup, but because there's just something about the possibility of romance between two people in this type of professional realm that feels captivating in its own right. 
Meryl Wilsner is the author behind some of my personal favorite additions to the romance genre within the last several years, and their latest novel is definitely primed to join past releases, fulfilling everything that the premise promises and then some.
Publisher's Description: Grace Henderson has been a star of the US Women's National Team for ten years, even though she's only 26. But when she's sidelined with an injury, a bold new upstart, Phoebe Matthews, takes her spot. Phoebe is everything Grace isn't—a gregarious jokester who plays with a joy that Grace lost somewhere along the way. The last thing Grace expects is to become friends with benefits with this class clown she sees as her rival.
Phoebe Matthews has always admired Grace's skill and was star struck to be training alongside her idol. But she quickly finds herself looking at Grace as more than a mere teammate. After one daring kiss, she's hooked. Grace is everything she has been waiting to find.
As the World Cup approaches, and Grace works her way back from injury, the women decide to find a way they can play together instead of vying for the same position. Except, when they are off the field, Grace is worried she's catching feelings while Phoebe thinks they are dating. As the tension between them grows, will both players realize they care more about their relationship than making the roster?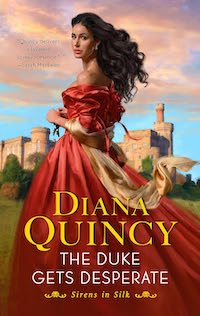 The Duke Gets Desperate by Diana Quincy
Release Date: September 26 from Avon
Why We're Excited: Diana Quincy's previous series was a breath of fresh air for the historical romance genre—featuring the types of characters who most certainly deserved to have their love stories told and were long overdue for it. 
The first book in her new Sirens in Silk series has all the trappings to give us even more of the same, with a spitfire of a female lead and a duke who are set up to butt heads instantly over a castle they're each convinced is theirs and theirs alone. Naturally, there's only one thing left for them to do once they're wrapped up in this conflict, and that's become wrapped up in one another.
Publisher's Description: Anthony Cary, Duke of Strickland, inherits his spendthrift father's title and can finally restore the family castle to its former glory. But at the reading of the will, Strick is stunned to learn that his father has secretly disentailed him, leaving the family manor–home to twelve generations of dukes–to Strick's American stepmother. Everyone knows Strick detests the dowager duchess, and when she dies mysteriously, damning rumors start to surface.
When Raya Darwish unexpectedly inherits her glamorous late cousin's castle in the English countryside, she clashes with the charismatic young duke who insists the castle is rightfully his. The estate is practically bankrupt, so she must find a way to work with the duke in order to save both of their futures.
The two cannot stand each other, but mutual disdain soon gives way to desire. When questions arise about how her cousin died, Raya cannot help wondering if Strick's sudden unbridled passion for her is part of a scheme to get his castle back…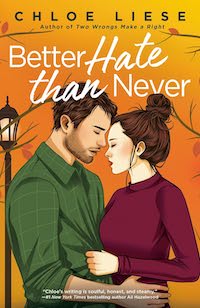 Better Hate than Never by Chloe Liese
Release Date: October 10 from Berkley
Why We're Excited: I was absolutely engrossed by the first book in Chloe Liese's new Shakespeare-inspired series, Two Wrongs Make a Right, which took on a reinterpretation of Much Ado About Nothing with all of the sexy sparring that the play's original storyline requires. 
This time around, there's a new Wilmot sister, Katerina, being set up for her own romance — and if that name sounds at all familiar to you, you're going to want to gobble up this enemies-to-lovers retelling that many readers are already calling Liese's best book yet.
Publisher's Description: Katerina Wilmot and Christopher Petruchio shared backyards as kids, but as adults they won't even share the same hemisphere. That is, until Kate makes a rare visit home, and their fiery animosity rekindles into a raging inferno.
Despite their friends' and families' pleas for peace, Christopher is unconvinced Kate would willingly douse the flames of their enmity. But when a drunken Kate confesses she's only been hostile because she thought he hated her, Christopher vows to make peace with Kate once and for all. Tempting as it is to be swept away by her nemesis-turned-gentleman, Kate isn't sure she can trust his charming good-guy act.
When Christopher's persistence and Kate's curiosity lead to an impassioned kiss, they realize "peace" is the last thing that will ever be possible between them. As desire gives way to deeper feelings, Kate and Christopher must decide if it's truly better to hate than to never risk their hearts—or if they already gave them away long ago.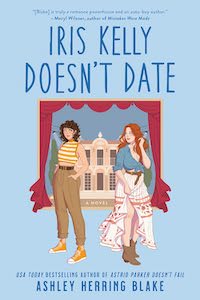 Iris Kelly Doesn't Date by Ashley Herring Blake
Release Date: October 24 from Berkley
Why We're Excited: It feels like only yesterday that we were treated to Astrid Parker Doesn't Fail, the second Bright Falls book, but the upcoming conclusion to this delightful queer romance series has already earned plenty of buzz from fans both old and new. 
It doesn't hurt that Iris has been a fan-favorite character for a while, and there's nothing quite like finally getting to the HEA for someone who's been in the background of others' love stories for a while. That said, it's the journey to how Iris Kelly's HEA will happen that we're looking forward to the most.
Publisher's Description: Everyone around Iris Kelly is in love. Her best friends are all coupled up, her siblings have partners that are perfect for them, her parents are still in marital bliss. And she's happy for all of them, truly. So what if she usually cries in her Lyft on the way home. So what if she misses her friends, who are so busy with their own wonderful love lives, they don't really notice Iris is spiraling. At least she has a brand-new career writing romance novels (yes, she realizes the irony of it). She is now working on her second book but has one problem: she is completely out of ideas after having spent all of her romantic energy on her debut.
Perfectly happy to ignore her problems as per usual, Iris goes to a bar in Portland and meets a sexy stranger, Stefania, and a night of dancing and making out turns into the worst one-night stand Iris has had in her life (vomit and crying are regretfully involved). To get her mind off everything and overcome her writer's block, Iris tries out for a local play, but comes face-to-face with Stefania—or, Stevie, her real name. When Stevie desperately asks Iris to play along as her girlfriend, Iris is shocked, but goes along with it because maybe this fake relationship will actually get her creative juices flowing and she can get her book written. As the two women play the part of a couple, they turn into a constant state of hot-and-bothered and soon it just comes down to who will make the real first move…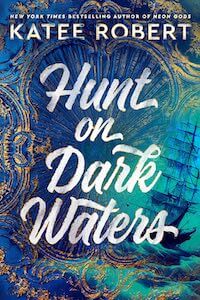 Hunt on Dark Waters by Katee Robert
Release Date: November 7 from Berkley
Why We're Excited: Katee Robert has tackled so many different genres over the course of her career already — from mythology retellings to monster romances, full-length novels to quick and dirty shorts, the only question that remains is what she'll do next! 
Apparently, the answer this season is fantasy romance, featuring a witch (yes, hello) and a pirate (already had us at witch, but 100% YES) and the sexy shenanigans they'll no doubt get up to while stuck at sea together — because if the ship is a'rockin'… well, you know the rest. High tension and hotter steam are no doubt in store, and we can't wait for the adventure that lies ahead.
Publisher's Description:  Evelyn is a witch with a perfect storm of impulses: terrible taste in bed partners, sticky fingers, and a lust for danger. After she steals from her vampire ex and falls through a portal to another realm, she's fished out of the waters by a band of seafarers and their telekinetic captain. She's immediately given a choice—join their group or die.
Bowen has no memory of his life before he became one of the Cŵn Annwn. He and his pirate crew are bound by vow to patrol through Threshold, the magical sea in between realms, keeping the portals to other worlds safe. When he rescues Evelyn, he doesn't expect to be attracted to the unflappably brassy pickpocket. The longer he spends in her presence, the more he begins to question if his heart is the next thing she'll steal.
But as tension heats up between Bowen and Evelyn, danger escalates as well. Because Evelyn has no intention of keeping her vows to the Cŵn Annwn, and if she betrays the crew, both she and Bowen will pay the ultimate price…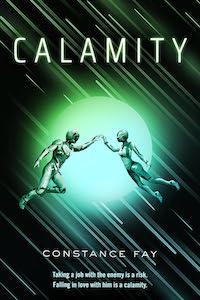 Calamity by Constance Fay
Release Date: November 14 from Bramble
Why We're Excited: When we first heard that Tor would launch a brand-new romance imprint earlier this year, we decided to let ourselves remain cautiously optimistic about more publishers getting into HEAs—and the first book debuting through Bramble comes out this year! 
Sci-fi romance is a subgenre that could always use more love, and while early comps of Calamity compare it to Firefly or Ilona Andrews, we'd argue there are just as many similarities to another favorite space romance author we adore: Jessie Milhalik. If found family, enemies-to-lovers, steamy romance, and a leading lady who knows exactly what she wants (and isn't afraid to reach out and take it) seem right up your alley, then pick up this sci-fi adventure when it drops!
Publisher's Description: She's got a ramshackle spaceship, a misfit crew, and a big problem with its sexy newest member…
Temperance Reed, banished from the wealthy and dangerous Fifteen Families, just wants to keep her crew together after their feckless captain ran off with the intern. But she's drowning in debt and revolutionary new engine technology is about to make her beloved ship obsolete.
Enter Arcadio Escajeda. Second child of the terrifying Escajeda Family, he's the thorn in Temper's side as they're sent off on a scouting mission on the backwater desert planet of Herschel 2. They throw sparks every time they meet but Temper's suspicions of his ulterior motives only serve to fuel the flames between them.
Despite volcanic eruptions, secret cultists, and deadly galactic fighters, the greatest threat on this mission may be to Temper's heart.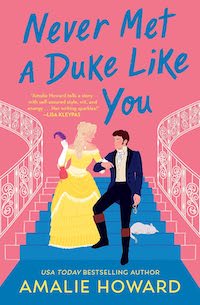 Never Met a Duke Like You by Amalie Howard
Release Date: November 14 from Forever
Why We're Excited: Amalie Howard has already penned some of our favorite romances in recent memory, and in her latest, she's drawing clear inspiration from one of the best comedies out there. If you're looking for something to scratch the itch in between waiting for new seasons of Bridgerton (Season 3 WHEN, Netflix?), then perhaps you might be enticed by Never Met a Duke Like You, which boasts an irresistible will-they-won't-they dynamic that ratchets up the tension at all the right moments. 
It might be a bit heavier, tonally, than Amy Heckerling's iconic teen comedy, but there are notes of Cher (and her source inspiration, Emma Woodhouse) to be found in Lady Vesper Lyndhurst, who is more than content to make matches for other people and ignore the prospect of any romance for herself — at least until Aspen, the Duke of Greydon, comes along…
Publisher's Description:  Lady Vesper Lyndhurst is beautiful, clever, and popular. Afforded every luxury as a duke's daughter, she fills her days with friends, intrigues, and a self-professed knack for matchmaking. She may have sworn off love for herself, but she is rather excellent at arranging it.
Faced with an insolvent estate, the Duke of Greydon has no choice but to return to England in a final attempt to revive his family's fortunes. He's been gone for years, happy to have escaped his mother and the petty circles of the ton. To his dismay, not much has changed, including the beautiful and vexing heiress next door.
But when an accident of fate traps the friends-turned-enemies in an attic together, the explosive attraction between them becomes impossible to ignore and even harder to resist. They are total opposites and their lives don't align in the slightest, but fate, the ultimate matchmaker, appears to have other plans . . .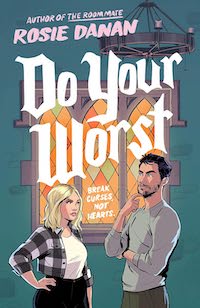 Do Your Worst by Rosie Danan
Release Date: November 14 from Berkley
Why We're Excited: We've been mildly obsessed with Scotland pretty much ever since reading (and watching) Outlander, so when we found out that Rosie Danan's newest romance would be set in this beautiful country—and in a mysterious castle, no less, it was all we could do to contain our hype. 
Do Your Worst feels like a markedly different setting and characters for Danan as well, who primarily writes contemporary romance and has done so again here, but with a mystical bent that also makes this new novel stand out from anything she's ever done prior.
Publisher's Description: Riley Rhodes finally has the chance to turn her family's knack for the supernatural into a legitimate business when she's hired to break the curse on an infamous Scottish castle. Used to working alone in her alienating occupation, she's pleasantly surprised to meet a handsome stranger upon arrival—until he tries to get her fired.
Fresh off a professional scandal, Clark Edgeware can't allow a self-proclaimed "curse breaker" to threaten his last chance for redemption. After he fails to get Riley kicked off his survey site, he vows to avoid her. Unfortunately for him, she vows to get even.
Riley expects the curse to do her dirty work by driving Clark away, but instead, they keep finding themselves in close proximity. Too close. Turns out, the only thing they do better than fight is fool around. If they're not careful, by the end of all this, more than the castle will end up in ruins.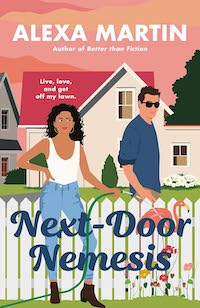 Next-Door Nemesis by Alexa Martin
Release Date: November 14 from Berkley
Why We're Excited: Alexa Martin has become a name to know in contemporary romance, and her latest book feels as close to a successful rom-com as anyone could hope for. Sometimes, books that are billed as "rom-coms" tend to not hold up the second half of that portmanteau, but speaking as someone who's had the opportunity to read an early ARC of this one — never fear, Next-Door Nemesis is here to satisfy on both fronts. Collins is a character who will resonate with anyone whose professional and personal life is in dire need of a reset, and her tactics to edge out her former BFF (and competition for the HOA presidency) Nate are as hilarious as they are diabolical.
Publisher's Description: Two rival candidates for a homeowner's association presidency are about to find out how dirty suburbanites fight in this steamy new romantic comedy from Alexa Martin.
After years of hustling, Collins Carter has finally made it…back to her parents' house. Between tending to the compost with her newly retired dad and running into her high school nemesis at the only decent coffee shop in town, Collins realizes this subdivision from hell she swore she'd never return to is her rock bottom.
Then the homeowner's association complaint arrived.
Nathaniel Adams always dreamed of a nice, quiet life in his suburban hometown. Or at least that's what he thought until Collins moved back and sent his quaint, organized life into a tailspin. He thought Collins was infuriating ten years ago, but when she announces she's running against him for HOA president, all bets are off.
From secret board meetings to vicious smear campaigns whispered over backyard fences, Collins and Nate sink to levels their sleepy suburb has never seen before. But as hate turns into lust, these two enemies are forced to reckon with the feelings they've ignored for years. If only there were bylaws for real life.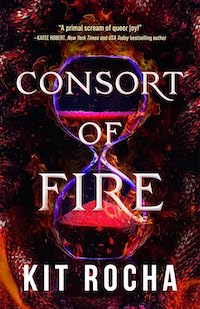 Consort of Fire by Kit Rocha
Release Date: November 28 from Montlake
Why We're Excited: Kit Rocha (the shared pen name for one of our favorite romance-writing duos) has been behind some of the best sci-fi and dystopian-rooted stories that the genre can boast—with oodles of worldbuilding, captivating pairings, and welcome found family relationships.
 This time around, they're venturing into the romantic fantasy vein, and it feels like Consort of Fire really only scratches the surface of the rich environment their latest series takes place in. Not only does this book come with the initial offering of an arranged marriage to an ancient dragon god, but it also guarantees a happy ending — not just between said god and his intended bride, but the handmaid assassin who also serves the dragon's consort. Between a murder plot, an intriguing magic system, and delicious tension between all three sides of the equation, the real question is: will they all survive each other, or will they burn down the world in pursuit of true happiness?
Publisher's Description: For three thousand years, an ancient dragon god has protected the borders of the Sheltered Lands. In return, he makes only one demand: every one hundred years, the mortal ruler must send their heir to serve as his consort…for as long as they can survive.
Sachielle of House Roquebarre is the thirty-first consort to be sacrificed to the monster who guards the mountain passes. She is young, beautiful—and she has three secrets.
First: she's a disposable orphan trained in seduction.
Second: her handmaid, Zanya, is an assassin and the only person she has ever loved.
Third—and most dangerous: she's cursed. Sachi and Zanya have five weeks to murder the Dragon in his bed. If they fail, the mortal king's curse will steal not just Sachi's life, but her very soul.
The Dragon has only one secret: he is nothing like what they have been told. And he will do whatever it takes to possess them both.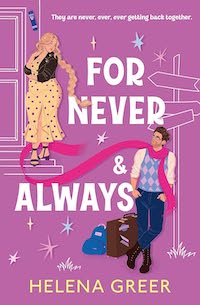 For Never & Always by Helena Greer
Release Date: November 28 from Forever
Why We're Excited: Helena Greer had our hearts from the beginning with Season of Love, a holiday-themed romance set against the entertaining backdrop of a Christmas tree farm—but our thirst for more was instantly piqued when we realized there was a second-chance romance waiting in the wings. 
Enter For Never & Always, where the inheritance of said Christmas tree farm now positions two estranged, former lovers together again—and also gives one of them the perfect opportunity to win the other back, for good. The trope in and of itself allows for some especially sweet groveling potential, but if there's one thing we already know about Greer, it's that her follow-up novel will deliver on angst as well as tenderness (and hopefully lead to even more books in the future!).
Publisher's Description: Hannah Rosenstein should be happy: after a lonely childhood of traipsing all over the world, she finally has a home as the co-owner of destination inn Carrigan's All Year. But her thoughts keep coming back to Levi "Blue" her first love, worst heartbreak, and now, thanks to her great-aunt's meddling will, absentee business partner. 
When Levi left Carrigan's, he had good intentions. As the queer son of the inn's cook and groundskeeper, he never quite fit in their small town and desperately wanted to prove himself. Now that he's a celebrity chef, he's ready to come home and make amends. Only his return goes nothing like he his family's angry with him, his best friend is dating his nemesis, and Hannah just wants him to leave. Again .
Levi sees his chance when a VIP bride agrees to book Carrigan's—if he's the chef. He'll happily cook for the wedding, and in exchange, Hannah will give him five dates to win her back. Only Hannah doesn't trust this new Levi, and Levi's coming to realize Hannah's grown too. But if they find the courage to learn from the past . . . they just might discover the love of your life is worth waiting for.
---
Carly Lane is an Atlanta-based writer who considers herself a lifelong Star Wars fan, newbie Trekker, diehard romance reader, nascent horror lover, and occasional live-tweeter. She is the senior TV editor at Collider, a former contributing editor for SYFY FANGRRLS, and has also written for Vulture, the Boston Globe, Nerdist, Teen Vogue, Den of Geek, The Toast, and elsewhere around the Internet.