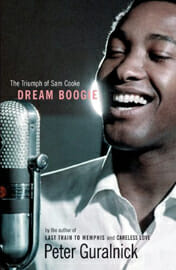 Masterful biographer takes on the life of a soul legend…
In Dream Boogie, Peter Guralnick reaches widely to gather the world surrounding its subject, Sam Cooke. The resulting biography is a multi-layered depiction of the charismatic singer, and of the era that spawned his music.
Cooke, of "You Send Me" fame, became a crossover heartthrob during the dawn of rock 'n' roll and the civil-rights movement. Chronicling Cooke's years singing gospel with his siblings, and his controversial performing, writing and producing of secular music, Guralnick plumbs the mystery of Cooke's enthralling charm, intelligence, talent and ambition. In doing so, Guralnick also narrates the aspirations and anxieties of Cooke's family, associates and competitors, who serve as aids and obstacles to his pride and search for perfection. The joyous, visceral effect of Cooke's singing is illustrated by a performance of the gospel quartet, The Soul Stirrers. Cooke, handsome and young, sang hymns so sensuously that, his brother claims, "this lady two rows in front of me threw her baby up in the air."
Guralnick brilliantly describes the music, rendering Cooke's vocal uniqueness repeatedly. He also measures Cooke's cultural importance as he crosses paths with Mahalia Jackson, Cassius Clay and Elvis Presley. From the richness of Guralnick's research, he captures an extraordinary, flawed life that—like Sam's music and the era that produced it—is uplifting and suffused with heartbreak.