Food Fight: The Combative Relationship at the Heart of the Chain Restaurant Review Podcast Doughboys
Screenshot via YouTube
Comedy
Features
Doughboys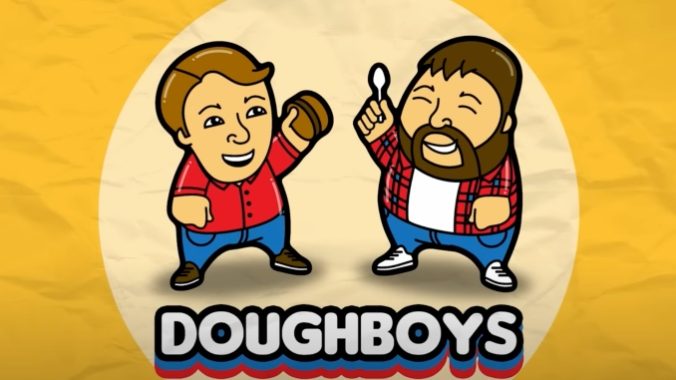 "We should have ordered lunch."
"Oh, maybe we can find a dog and give you a pile of dog shit and you can eat that you piece of fucking shit."
This exchange is from the recent 400th episode of Doughboys, the self-described "podcast about chain restaurants." It's between the two hosts—the regret over a missed lunch from the eccentric and geeky comedian/writer Nick Wiger (Earth to Ned, Comedy Bang! Bang!), and the suggestion that he eat dog feces from the more rugged and combative comedian/actor Mike Mitchell, more commonly known as Mitch (The Tomorrow War, Love). But they don't say it to each other live on the episode. It's actually an altercation being recounted by this episode's guest and extended Doughboys family member, writer Evan Susser (Fist Fight, Brooklyn Nine-Nine). He's supposedly the only person that has listened to a now-fabled, lost, original 400th episode of the show that the hosts decided not to release (except Mitch also sent it to Mike Hanford of comedy band The Sloppy Boys), from which this quote appeared. 
The trio explains a couple of reasons why this episode will never see the light of day. One: the concept of the episode was deemed literally unlistenable in practice. The original recording saw the hosts bringing back the first-ever Doughboys guest, Eva Anderson, as the three did a live commentary of the first-ever episode in which they visited and reviewed Tex-Mex chain Chili's. It doesn't take too long to figure out why this idea was a misfire—just imagine the incomprehensible chatter of three people talking over and attempting to comment on a recording of themselves from eight years ago. 
Two: the on-air feud between Nick and Mitch was deemed unlistenable in its own right. Susser deemed the tension between the boys a little too real to be entertaining, the hostility a little too aggressive to be comfortable with people hearing. But one look at the show's subreddit sees fans that would love to hear such an episode, the appeal of the podcast coming as much from food talk and raunchy jokes as from the compelling nature of the discordant relationship between its two hosts. Doughboys is a food podcast, it's a comedy podcast, but it's also a podcast about the strain that a collective creative pursuit can put on a friendship. 

But let's back up just a little. Doughboys started in 2015 after Nick and Mitch—who met within the faction of the L.A. alt-comedy/improv scene that cut their teeth at places like the Upright Citizens Brigade Theatre—realized their shared love of chain restaurants was actually a podcast concept staring them in the face. The premise is simple: Each week the boys bring on a guest to interview and shoot the shit with before reviewing a particular food spot and designating its "fork score," usually before going into additional segments including games and a "Feedbag" where they answer listener queries. 
The basic structure has remained consistent for all 400+ episodes of the show, while the specificities have shifted and changed in the way they do for a podcast that is going on ten years old. Segments have come and gone, members of the producing team have left and been added, and the show has looked for new ways to engage with its audience. They cover as many different chains as possible and aren't resistant to re-litigating previously visited restaurants: They've reviewed Taco Bell a full seven times, and that's not including the appearances it's made in various tournaments that have happened over the years, like the annual Munch Madness bracket. The Doughboys Double, extra episodes of the show that are available exclusively through their Patreon, is typically used to discuss new variants of snacks and drinks but also is used as a springboard for topics other than food—the month of May this year became the themed month of "Maynk," where a different David Fincher movie was discussed weekly—as well as more, let's say, experimental ventures such as "The Scale," where the hosts and producer Emma Erdbrink held a tournament to guess the weight of various fast food items before weighing them on the titular scale. 
They've gone from recording at Mitch's dining room table, to recording in-studio after being picked up by a network (from the disgraced Feral Audio to now being on Headgum), to doing a full three years' worth of socially-distanced episodes in the wake of Covid. They're back in the studio now and hitting their stride. The long-distance episodes were still great (a lot of credit is owed to Erdbrink for making them sound as natural and fluid as they ultimately did), but the show has what feels like a born-again vibrancy, a newfound sense of gratification from Nick and Mitch as they're once again able to feed off each other's energy in person. Fittingly, they've also introduced video versions of episodes on their YouTube channel, and are wrapping up an east coast tour where they've sold out venues like Palladium Times Square in New York. There has never been a better time to be a Doughboys fan. 
It may be an obvious statement to make about a podcast that the appeal of the hosts is what makes it great, but it feels doubly true for a show like Doughboys. There's an accessible concept—two non-food-expert comedians debating the merits of fast food chains—and a wide-ranging, eclectic ensemble of guests—including LA comedy stalwarts like Scott Aukerman, Lauren Lapkis, Nicole Byer, and Paul F. Tompkins—but Nick and Mitch are what give the show its unique perspective. The pair ground the podcast in a strange and surprising emotional pathos if you keep up with it for long enough. 
There's a candidness the two bring to the table, regarding both their relationship with each other and how the state of the entertainment industry has led each of them to be financially reliant on a podcast that the duo constantly insinuate feels actively detrimental to their own health. It's not uncommon for the topic of quitting the show to come up on-air, and there was a time when Doughboys seemed like it had an expiration date. But as a working-class writer and actor, it's hard to let go of a steady source of income others of their position likely wish they had. Nick and Mitch, in a refreshing change of pace from so many lukewarm neoliberals or flat-out bad actors in the entertainment space, are persistently clear about their solidarity with the laboring class.
Both have trouble reconciling that their podcast partially relies on the work of underpaid wage workers and, with Nick a WGA member and Mitch a SAG member, both have been seen walking the walk on the picket lines during the current writers' strike. Nick has suspended his usual scripted intros of the show in solidarity with the strikes, instead offering a "Neat-O Fact of the Week," which is typically related to how studio executives keep taking home more and more money while the working writers keep getting less. It sounds like a joke, but there's good reason to designate Doughboys as the podcast of the people. 
But really, it's Nick and Mitch themselves that have taken the podcast both to its closest breaking point and ushered it into consistent success with a considerable listenership. The two bicker constantly, their clashing personalities coming to a head regarding what the construction of the show should look like, or over how Mitch is always late, or how Nick is too nitpicky. Their annual year-end episodes are ostensibly a yearly review of Steak 'n Shake, but often see the boys assessing the state of the podcast and their relationship with it. Back in the day, this kind of episode turned exceedingly fraught with conflict: Their third visit to Steak 'n Shake in 2016, sometimes known as "The Blow-Up," resulted in maybe the harshest publicly available Doughboys episode, and at the time seemed like a clear signpost that the two were too incompatible as coworkers to make this show work. But even then, such as now, the episode saw them exonerate themselves of their grudges and burdens, exorcizing the bitterness from their discord live on-air.
The two sync up in pleasant harmony much more consistently now, and besides, the show has never been purely defined by full-throttle arguing that you may imagine it be after reading about it up to this point. On the contrary, the podcast is at its best when Nick and Mitch are able to lock in together on a particular stupid bit or tangent that goes on for way too long, veering the course of the episode entirely off-track in a manic sense of goofy inanity. It can be absolutely joyous nonsense, and also frequently insightful about the state of both the food and entertainment industry. But their intermittent quarreling gives the genuine displays of a friendship a much more fascinating texture because you intrinsically know that you're listening to the conversations of two men who frequently put in active work to make that friendship function. 
Right now, the podcast isn't showing any signs of slowing down, and 2023 has seen the output of some of their best-ever episodes. They've been walking a confident tightrope between concord and playful antagonism—which occasionally still slips into actual vexation. But that dichotomy is what oils the Doughboys machine, and what keeps its listeners invested in these two men. 
In the most recent annual review episode, in which the show goes into the most bluntly self-reflective mode it's seen since "The Blow Up," Mitch recounts a recent conversation with Nick that they had after finishing a meal at Fazoli's for the show. Mitch asked Nick: "Are you done with the podcast?" To which Nick responded: "I'm in a good place with the podcast. I'm in a better place with the podcast than I've ever been." Nick's sentiment continues to ring true with each passing week, and Doughboys is more of a delight than ever.
---
Trace Sauveur is a writer based in Austin, TX, where he primarily contributes to The Austin Chronicle. He loves David Lynch, John Carpenter, the Fast & Furious movies, and all the same bands he listened to in high school. He is @tracesauveur on Twitter where you can allow his thoughts to contaminate your feed.