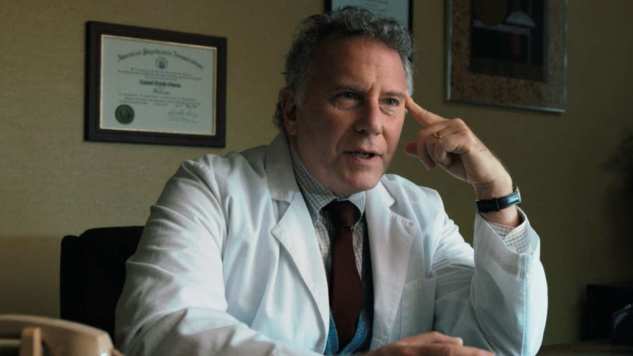 Paste doesn't just own the world's largest collection of live music recordings. Our archives are deep with stand-up from some of the best comedians of all time. Every Tuesday and Thursday we'll be sharing classic comedy from legends like George Carlin, Jerry Seinfeld, Eddie Murphy and more.
Netflix released the second season of its pop culture phenomenon Stranger Things last week, which introduces a lot of new faces into the spooky town of Hawkins, Indiana. That creepy black science lab where Eleven was held captive (which is actually a former state-run mental health facility here in Paste's home town of Atlanta) is now overseen by a new doctor, and although he seems friendlier and more avuncular on the surface than Matthew Modine's first season villain, Dr. Owens winds up being almost as creepy. So it was a bit of a casting coup that they got Paul Reiser to play the role—he's one of those actors who's most likable as a performer when his character is highly unlikable. It's kind of his specialty.
Well before he popped up in Hawkins, Paul Reiser was the star of one of the biggest sitcoms of the '90s (Mad About You) and one of the most mocked sitcoms of the '80s (My Two Dads). Before that, he was a stand-up comic who had parlayed his success on the stage into memorable film roles in Aliens, Beverly Hills Cop and Diner. If you're under a certain age you've probably never seen or heard Reiser's stand-up; you may not even recognize him outside of Stranger Things. (Although, hey, if you have Amazon Prime, go seek him out on another great '80s-set show, Red Oaks; it's probably his best role and performance since Aliens.) He segued into acting so early in his career that he doesn't have the body of stand-up work that many of his contemporaries have; he only has a couple of specials, along with three books and multiple appearances on various stand-up shows from the '80s. Paste has over a dozen clips of his comedy from the Live from the Improv box set, though, recorded from throughout the 1980s, and they reveal a comedian every bit as sharp and insightful as such contemporaries as Jerry Seinfeld and Richard Lewis.
In this clip, dated July 7, 1986, Reiser talks about how nobody wants to admit they watch TV, even when they're talking about watching TV. It's a solid description of what watching TV was like before the streaming era, and an interesting contrast to Reiser's current career, where most of his acting gigs come on streaming shows that have to be actively sought out by the viewer and can't just be stumbled upon while flipping through the dial. Beyond Red Oaks, whose final season launched on Amazon the week before Stranger Things returned to Netflix, Reiser has There's… Johnny, a show he writes and produces about The Tonight Show in the 1970s, coming to Hulu on Nov. 16. He's the stream king, for sure.