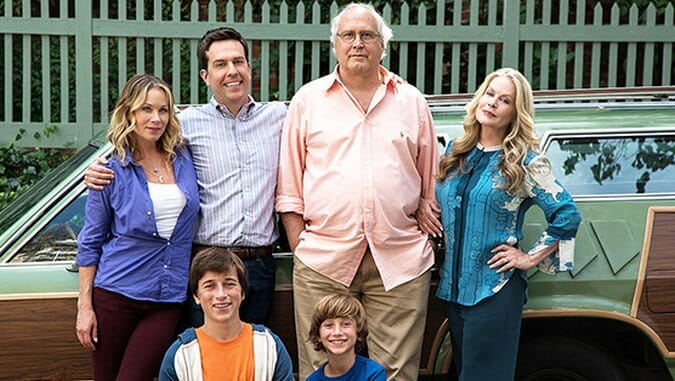 A film seemingly designed to prove that "really stupid" and "pretty funny" aren't mutually exclusive assessments, Vacation is a hit-or-miss grab bag of gleefully moronic jokes whose biggest limitation is that it's not as consistently, shamelessly idiotic as it should be. This reboot/sequel of 1983's National Lampoon's Vacation definitely has its moments—none of which you'll want to relate in polite company or around anyone you're trying to impress—but they aren't frequent or inspired enough to merit a full recommendation for tagging along on this misbegotten road trip. Vacation is the embodiment of the rental ideology: It's funnier than you might imagine but still utterly disposable.
The film stars Ed Helms as Rusty Griswold, the kid from the original Vacation (then played by Anthony Michael Hall) who was at the mercy of his deadpan-bozo father Clark (Chevy Chase) as he packed up his family for a cross-country vacation. Now all grown up, Rusty is a pilot for a low-end airline who feels that his own family needs a little together time. Ditching their usual, predictable vacation spot out in the woods, Rusty announces they're instead going to re-create his dad's old car trip from Chicago to Southern California's Walley World.
This new Vacation asserts its smart-ass credentials early on, the Griswold clan sitting around discussing Rusty's plan to go on a "new vacation" that's like the "old vacation," as Rusty promises his kids they don't have to remember the "old vacation" to enjoy the "new vacation." The joke is both obvious and mildly clever—it's the filmmakers' way of acknowledging and mocking the fact that this sequel really isn't that different than the original Vacation—which is an apt assessment of the new movie's overall comedic strategy.
Writer-directors Jonathan Goldstein and John Francis Daley (who previously collaborated on the scripts Horrible Bosses and The Incredible Burt Wonderstone) make their feature directorial debut with Vacation, copying not just the road-trip setup but also the original's affectionate-yet-jaundiced sendup of the All-American, middle-class banality of the family vacation. The misadventures and stops along the way are different in this Vacation, but Rusty has inherited his father's quietly desperate helplessness, that ramrod faux-confidence that everything is going great—even if the car is currently on fire.
Helms has projected a likeable anonymity in movies such as The Hangover, and that mild-mannered quality works well here, too. Sweeter and a little more vulnerable than his dad, Rusty makes for a sympathetic protagonist, while Chase's appeal as Clark was his snide smugness: The character knew he was smarter than those around him, but that only made his constant comeuppances funnier. Without doing a Chase imitation, Helms conjures up a little of the older actor's poker-faced exasperation, suggesting a sincere father-son bond between Clark and Rusty. (Chase and Beverly D'Angelo reprise their roles as the heads of the Griswold clan, although their brief cameo isn't particularly anything but obligatory.)
Helms is helped enormously by the presence of Christina Applegate as Rusty's loyal wife Debbie. Believably bedraggled as a working couple with two sons (Skyler Gisondo and Steele Stebbins), Helms and Applegate navigate through some familiarly "zany" married-life narrative tropes—Rusty didn't realize his conservative wife was such a slut in college!—but they have a nice low-key rapport that allows the family's every pitfall to seem more amusing than grating. Debbie wants to support Rusty's dream to reconstruct his childhood family vacation, but Applegate's pinched smile belies all kinds of buried resentment underneath the loyal-wife exterior, a tension that comes out in funny ways, such as when the family visits Rusty's sister (Leslie Mann) and her ridiculously hunky, rich husband (Chris Hemsworth, having a blast with a Texas drawl and some stuffed boxers).
A nuanced dissection of performances, though, is probably beside the point with a movie where some of the biggest laughs accompany eviscerated livestock and people getting hit in the face—hard. Flaunting its R rating, Vacation pours on the obscenities and sexual innuendo, although the jokes tend to avoid the mean-spirited and focus instead on the crass. (That is, of course, when they're not just straight-up dumb; god help me, the angry-Korean GPS gag made me giggle.) Reviewing a movie like Vacation is something of a lose-lose proposition: Tell people it ain't half bad and I unreasonably raise expectations for a deeply erratic comedy, but warn viewers against seeing it and I risk steering folks away from something that might produce a few laughs when it pops up on cable. In the end, this new road-trip comedy doesn't have quite enough in the tank for me—your mileage may vary.
Directors: Jonathan Goldstein, John Francis Daley
Writers: Jonathan Goldstein, John Francis Daley
Starring: Ed Helms, Christina Applegate, Leslie Mann, Chris Hemsworth, Beverly D'Angelo, Chevy Chase, Skyler Gisondo, Steele Stebbins
Release Date: July 29, 2015
---
Tim Grierson is chief film critic for Paste and Vice President of the Los Angeles Film Critics Association. You can follow him on Twitter.