Listen to Devo Play an Early Version of Their Ingenious "Satisfaction" Cover in 1979
On Jan. 22, 1979, the post-punk upstarts tackled the Stones with fidgety confidence.
Photo: Getty Images
Music
Features
Devo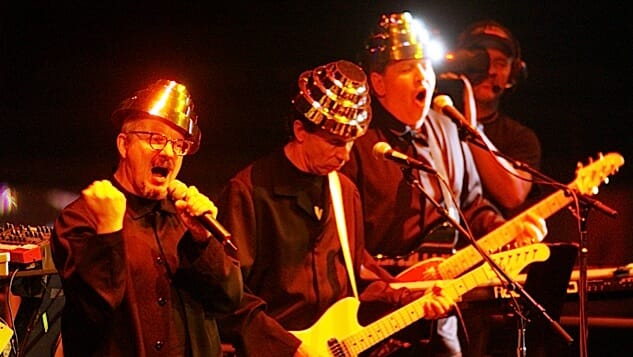 Did you know that Paste owns the world's largest collection of live music recordings? It's true! And what's even crazier, it's all free—hundreds of thousands of exclusive songs, concerts and videos that you can listen to and watch right here at Paste.com, from Dizzy Gillespie to The Kinks to The Police to LCD Soundsystem. Every day, we'll dig through the archive for the coolest recording we have from that date in history. Search and enjoy!
Before Devo's "Whip It" launched a thousand new-wave synth-pop ships in 1980, the group band released their punk-indebted debut album Q: Are We Not Men? A: We Are Devo!, produced by Brian Eno, in 1978. The album featured a cover of the Rolling Stones' "(I Can't Get No) Satisfaction," which was quite a feat to attempt on a debut release by four Ohioans. But Devo's herky-jerky rendition of the Stones' most iconic song launched them to popularity, and was even enthusiastically approved by Mick Jagger himself. Devo's "Satisfaction" ingeniously omits Keith Richards ubiquitous riff in favor of a jarring push and pull that retains all the anxiety and self-scrutiny of the original.
On Jan. 22, 1979, five months after the album came out, a young Devo performed the song at a hometown show in Cincinnati, leaving none of the jitters to the record. Listen to one of post-punk's brightest lights make a classic-rock staple their own.