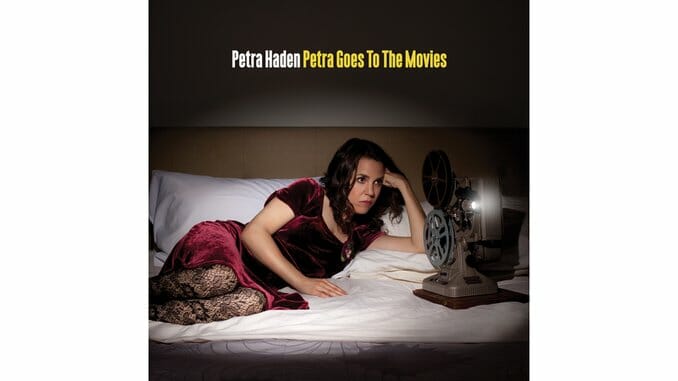 Petra Haden is best known as a vocal artist, less well known as a former member of the band That Dog or daughter of Charlie Haden. But she's not in the vein of vocal sculptors like Meredith Monk or a word jazzbo like Thomas Nordine. Haden is, first and foremost, an interpreter, which means that she specializes in fairly ambitious covers of popular songs rendered a cappella. Her last solo full-length was a track-by-track cover of The Who Sell Out, on which she mouthed all the instruments. Yes, that means Pete Townshend's power chords as well as Keith Moon's galloping drum fills.
That was nearly eight years ago. In the interim, Glee happened. The cloying TV show popularized a cappella singing and even had a minor hit with a cover of Journey's "Don't Stop Believin'" (which bore a suspicious similarity to Haden's own cover of the same song). In the span of one hour-long episode, the vocalist went from humored by hipsters to guilty by association.
For her long-awaited follow-up, she has wisely bypassed pop songs in favor of something a bit different—more challenging and perhaps more satisfying. Movie scores. What better way to erase your risible connection to the small screen than by watching the big screen? Haden's obviously a film buff. Who else would pit Superman (the original, not the stultifying modern adaptation) against Cinema Paradiso? Or My Bodyguard against The Social Network?
For the most part, she chooses her films wisely, picking songs that not only give her a lot to do vocally but also create sonic rhymes across the album. The buzzy punctuations of opener "Rebel Without a Cause Main Title," which have an almost taunting quality, echo in the background static of "Hand Covers Bruise" from The Social Network. It's a neat trick for an album that isn't quite I Lost It at the Movies, but does have something to say about sound and visuals. Even rendered purely vocally, the music retains the power evoke familiar images and characters in uncanny, unsettling ways.
Compositions with lyrics give her a bit more trouble: Haden's "Goldfinger Main Title" lacks the sex and glamour of Shirley Bassey's debauched original, and her take on "It Might Be You," the love theme from Tootsie, is just as sappy as the original. Those tracks are bound to leave listeners wondering what she could have done with the eerie "la la la"s of Krzysztof Komeda's Rosemary's Baby theme or the vocal freakouts on Ennio Morricone's soundtrack from The Good, the Bad & the Ugly. Petra Goes to the Movies will be incomplete for almost any movie buff, at least until Haden goes back to the movies. In the meantime, perhaps some director will hire her to make her own film score?