Album of the Week | Ratboys: The Window
The Chicago quartet expand their horizons on their fourth album, showcasing the brilliance of their raw, rootsy sound
Music
Reviews
Ratboys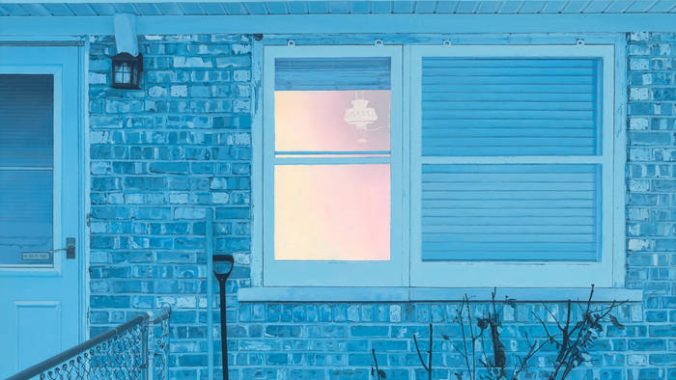 If you still read album reviews on a regular basis—and you should!—you will find no shortage of writers coming to the conclusion that the work they're reviewing is "the band's best album yet." These declarations are obviously subjective and surely premature. To each their own, of course, but how certain can one be that a band has released its finest recordings after three or five or even 10 listens, especially as compared to an older album with years of spins already sunken in?
With that said, there is pretty solid evidence that Ratboys' new album, The Window, may, in fact, be the band's best yet. Before you call me a hypocrite, let's consider how it was made:
The Chicago indie rock band released its excellent third album Printer's Devil in 2020, and also spent that first pandemic year at home demoing new songs.
Much of 2021 saw the band honing those new songs, bolstered by their first-ever permanent four-piece lineup, with bassist Sean Neumann and drummer Marcus Nuccio joining Ratboys founders Julia Steiner and Dave Sagan. The result was an album written and arranged collaboratively from start to finish.
Along the way, Ratboys sent early versions of the songs to former Death Cab for Cutie guitarist Chris Walla, who produced The Window, and Walla—no music-making slouch himself—provided feedback. This led to an album that was "nearly fully formed" by the time Ratboys arrived at Walla's legendary Hall of Justice Recording Studio in Seattle to start tracking.
In other words, a whole bunch of time, effort and preparation went into making Ratboys' fourth full-length album as good as it could be—none of which would matter very much if the seeds of these songs were bad. But the band had that covered, too: The Ratboys universe always has and continues to revolve around melodies and words written by Steiner, who established herself as one of the underground's top-shelf bandleaders on 2017's GN. Three years later, she cemented that status on Printer's Devil, a collection of songs with tough emo/punk-ish exteriors cracked open to reveal the tender, slightly twangy indie-pop heart inside.
All of those qualities are enhanced and expanded on The Window, which is the first album Ratboys made outside of their native Chicago. Across 11 tracks, the band stretch from a two-minute chunk of irresistible pop-punk ("Crossed That Lane") to jaw-dropping early single "Black Earth, WI," an eight-minute epic that builds from rambler to rocker to a sing-along crescendo. It is undoubtedly (if unknowingly) the Midwest's answer to Wednesday's "Bull Believer" and one of the best songs of 2023 so far.
In between, Ratboys showcase, over and over again, their considerable skill for making songs that are emotionally raw and sonically polished, intrinsically rootsy and invariably catchy. "Morning Zoo" seems to burst from the speakers as Steiner asks "How long does it take / to find the peace that I want?" against a heart-swelling, Wilco-style country-rock jam—while the heavily fuzzed-out "Empty" sports a brief-but-killer guitar solo and answers a different question: "What if Charly Bliss was part of the Elephant 6 Collective?" And opening track "Making Noise for the Ones You Love" kicks things off with a propulsive guitar riff that builds tension as Steiner first sings about looking through a window—a theme that will return throughout the album.
Elsewhere, Ratboys alternate between sticking to their strengths (such as the spacious, sparkling "It's Alive!") and experimenting with, for example, programmed percussion on "Break" and dramatic violin parts on "Bad Reaction," both of which would fit snugly and aptly on a Death Cab For Cutie album. Here, you can easily envision the world of new sounds and ideas that opened up to Ratboys when they met up with Walla, and it's worth noting that both parties did a good job of adding "stuff" to the mix, but not "too much stuff." It's the way the band has dared to sound all along, put forth by an unyielding vision from the foursome. Those are the kinds of choices that inevitably come up when a band is writing bigger and better songs, recording in new spaces, trying new things, pushing itself outward and its sound forward. Ratboys have done all of that and more on The Window. Did they make their best album yet? That's up for you to decide.
Read our June profile on Ratboys here. Watch them perform "Go Outside" during their Paste studio session in 2021 below.
---
Ben Salmon is a committed night owl with an undying devotion to discovering new music. He lives in the great state of Oregon, where he hosts a killer radio show and obsesses about Kentucky basketball from afar. Ben has been writing about music for more than two decades, sometimes for websites you've heard of but more often for alt-weekly papers in cities across the country. Follow him on Twitter at @bcsalmon.