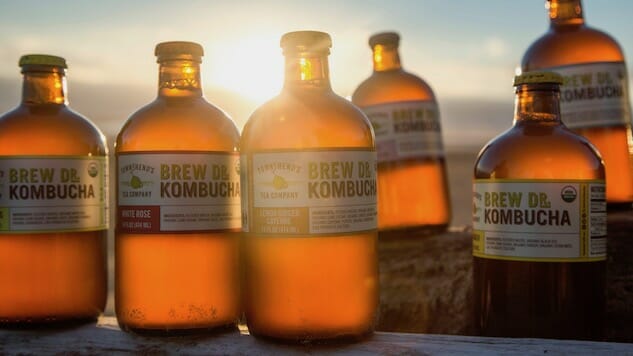 We waste a lot of food. We don't have to. We just do, because we don't think very hard sometimes. If you're a cook, you know how to transition ingredients through a cycle of different dishes-Sunday's roast chicken becomes soup stock, sandwiches, stews…until everything is used up. In a time when climate change is no longer something that could happen in the future (because it's already happening right now), it's shocking to note that Americans waste approximately 40% of their food and 90% of that waste goes into landfills. But that's the reality, which isn't just environmentally horrifying but a damn shame because of the missed opportunities for tasty "byproduct" foods you aren't thinking about. For example, let's say you are a purveyor of tea and you like to ferment the tea into kombucha. You not only end up with spent tea leaves-you have alcohol. What to do with it?
If you're Portland, Oregon's Brew Dr., you sequester the alcohol from the fermenting tea, keeping your kombucha buzz-free, and you hand it over to Thomas & Sons where it's distilled into artisanal spirits.
Brew Dr. began life as a tea company and Townshend's Tea Company has been providing as many as 120 rare and tasty tea varietals to happy Portlandians since 2006. In 2008, they decided to try home-brewing kombucha from their in-house teas and Brew Dr. became a thing. An unusual thing, as it turns out-most commercially available kombucha is flavored with juice, whereas these guys relied on the natural characteristics of the tea blends to supply a range of flavors, resulting in raw, organic, probiotic kombucha that carries the flavor profiles of the tea leaves and botanicals in the original tea blends (think of a kombucha made from dark, smoky lapsang souchong versus one made from green tea and jasmine petals, for example). Aside from the cane sugar needed to kick start fermentation, there are no additives. The whole operation is hippie-certified squeaky-clean and attention is paid to sustainability from end to end.
Fun fact: if you brewed kombucha at home you'd end up with a beverage with approximately 3% ABV. These guys have a cold fermentation process that sequesters the alcohol so the end product leaves you both micro-biome-enhanced and okay to drive.
Thomas and Sons, the in-house distillery arm of Brew Dr., converts kombucha-byproduct into gin, amaro, digestifs and sweet tea liqueurs. All are varietal-based (I think the "White Rose" gin, which began life as white tea and rose petals, is amazing), and great attention is paid to the combining of the various botanicals. Their "Bluebird Alpine Liqueur" is a rhapsody on fennel and angelica and has a bittersweet, wintry flavor that seems like apres-ski paradise. The "Smoke" iteration of their sweet tea potion comes from Lapsang Souchong, a Chinese black tea that's treated with pine smoke-they add rooibos, blackberry honey and vanilla to smooth it out. All the spirits are well-rounded and clean-tasting. Thomas & Sons is currently the only tea distillery, like, anywhere, and its various elixirs are distributed on the West Coast (with planned incursions into other regions in the works-visit the website for specifics).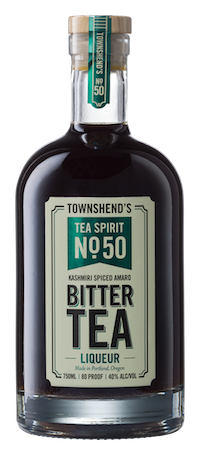 If this stuff didn't happen to taste great I'd still be jumping up and down to applaud the effort, because more food and drink producers need to be thinking this way. It's economical (two artisanal beverages from the same stuff), it's environmentally sound (less waste, responsible sourcing, clean production), and it's creative, which when you think about it should really be a prerequisite for anyone trying to sell you a food or drink product. But on top of that, they converted a kombucha-hater (I really find the stuff unnerving most of the time; Brew Dr. is fantastic) and offer some really lovingly-handled and inventive spirits.
We need more inventive spirits.
For cocktail recipes and distribution info, check them out here.