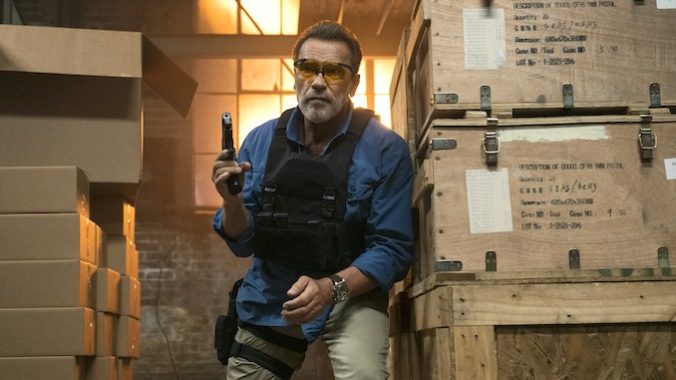 There's a sort of appealing finality in that both of the biggest action stars of '80s cinema eventually found their way into television (in their mid-70s!) to ride out the sunset days of the rest of their careers. But while Sylvester Stallone was lucky enough to get a tailor-made (pun fully intended) show that emphasized his strengths with Taylor Sheridan's Tulsa King, Arnold Schwarzenegger caught the wrong end of the deal with Netflix's horrendous action-comedy FUBAR. And it makes one wonder how much of his famous competitiveness went into saying yes to this project after seeing the amount of success his good friend has found making the Paramount+ series.

In defense of Schwarzenegger, FUBAR's concept sounds very much like his shtick. A slight throwback to his beloved '90s spy-comedy True Lies, the show's plot follows Luke Brunner (Schwarzenegger), a CIA operative in his 60s, who is one last mission away from retiring and dedicating all of his time to his big, loving family. However, the job (which he kept secret for decades) cost him his marriage, and made him a little estranged from his son and daughter. Although as we know, for a skilled professional like him, there's always another "final assignment" he has to do to keep the country safe.

Naturally, after his alleged last mission, he's called back to the field when an undercover operative's life is in great danger in Guyana, South America. She's infiltrated a paramilitary organization called Lape Pa Lanmo, led by Boro Polonia (Gabriel Luna), the son of Omar, who Brunner killed 25 years ago. Ever since, the organization flourished under Boro's reign, and became a powerful conglomerate in illegal arms sales. When our hero pays him a visit, he quickly finds out that the agent embedded in Boro's team is none other than his own daughter, Emma (Monica Barbaro). Shit hits the fan when they're confronted with decades of lies (blaming one another for betraying each other's trust and breaking up the family), and as Boro finds out their true identity, too, bloody chaos ensues. As father and daughter try to catch him and make it out alive from the shootout, Boro slips away. Now, the two Brunners have to partner up to find and catch him before he executes an elaborate and evil plan.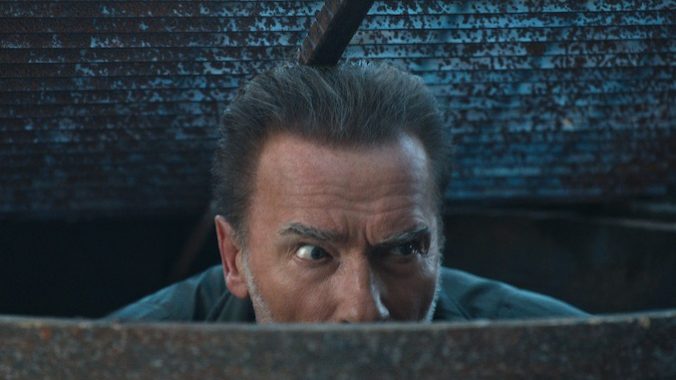 Whatever little '90s charm (the Austrian's trademark accent, some funny wordplay, and a macho bravado) FUBAR has in its pilot quickly gets murdered by the awful writing, mediocre acting, and embarrassingly outdated action sequences. This isn't the kind of nostalgic series that makes you chuckle at how un-PC or tone-deaf its characters are. Creator Nick Santora and his writers haven't got an ounce of originality in the script that could go beyond tiring clichés and cringe-inducing jokes (often spelled out as if the audience is a 10-year-old kid who doesn't understand how comedy works). Nearly everything they do backfires awkwardly.

It's very telling that the writing shares Brunner's age (he's 65, Schwarzenegger is a decade older in real life) within the first ten minutes to make his physicality and actions seem more impressive, even though it's blatantly obvious that a stunt double did most of the action scenes. Any stabbing, shooting, or beating is framed in a way that we don't see the protagonist's face. These sequences are so poorly choreographed, directed, and edited that they make you appreciate the lowest of low-budget action flicks a lot more. Thankfully, there isn't a ton of them, which helps FUBAR a great deal because the only time the show is slightly amusing is when it focuses on Brunner's family and personal life.

Schwarzenegger and his co-stars have moderately enjoyable chemistry—Brunner's dynamics with Emma and his tech guy Barry (Milan Carter) are pretty much the only highlights that deserve recognition. Although, it's noticeable that Arnold's acting hasn't got better with age, and his comedic chops feel rather rusty in the early episodes. But once the rapport between these characters is fully established, they slowly develop a vague likability despite the terrible lines the script continuously feeds them. The cast really tries to deliver, but they can't escape the consistently poor material that's just so out of date, boring, and predictable that they simply don't stand a chance. Thus solid character actors like Jay Baruchel and Barbara Eve Harris are wasted in painfully one-dimensional and unchallenging supporting roles like Emma's sweet boyfriend and the head of the CIA department the Brunners work for. These irrelevant roles could be played by virtually anyone.

FUBAR plays out exactly as you expect: father and daughter clashing against each other against a global backdrop of spies and bad guys until they slowly learn to accept and work with each other's strengths and weaknesses. As the journey takes them through multiple countries and heated situations (which hold zero surprises, you can see every twist from a mile away) with the usual team of sidekicks, tech people, and demanding superiors, there's only a handful of merely entertaining moments. These mostly come from scenes when Emma and Luke aren't on the field, trying to rebuild or maintain their personal relationships that are faltering due to the profession and career they chose to pursue. But, of course, in the end, all the conflicts get resolved in one way or another.

Frankly, if we consider the choices and the amount of flops Schwarzenegger had (Sabotage, Killing Gunther, The Iron Mask, etc.) ever since he returned to acting in 2010, it's not that surprising that FUBAR ended up being a bummer, too. It's just a shame because this project fits perfectly in his wheelhouse, within the growing popularity of Dad TV, but you can't make a delicious dish out of terrible ingredients. Next time, he should perhaps ask Stallone for sound advice before doing his next thing.

All episodes of FUBAR premiere Thursday, May 25 on Netflix.
---
Akos Peterbencze is an entertainment writer based in London. He covers film and TV regularly on Looper, and his work has also been published in Humungus, Slant Magazine, and Certified Forgotten. Akos is a Rustin Cohle aficionado and believes that the first season of True Detective is a masterpiece. You can find him talk about all-things pop culture on Twitter @akospeterbencze and Substack @akospeterbencze.
For all the latest TV news, reviews, lists and features, follow @Paste_TV.