The 10 Albums We're Most Excited About in February
Featuring Mitski, Big Thief, SASAMI and more
Photos by Ebru Yildiz, Alexa Viscius, Angela Ricciardi
Music
Lists
New Albums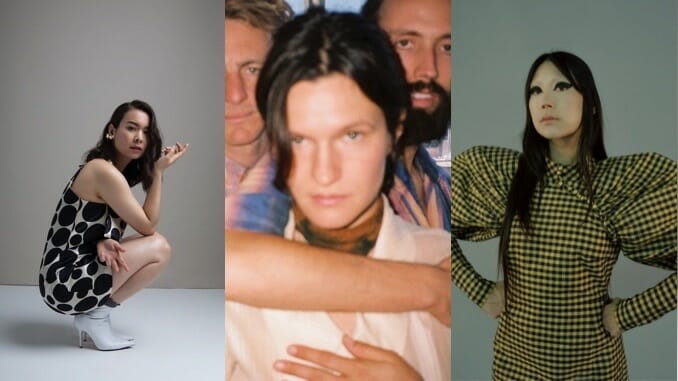 Before you dive into this list, you should know that it could easily have been twice as long. Many of our most-anticipated 2022 albums arrive this month, making the task of assembling a February preview both easy and excruciating. Nevertheless, we pared down an absolute cornucopia into only the cream of the crop—the records that, for one reason or another, stand out to us as the most exciting releases on the calendar. Almost half the list is practically upon us: Animal Collective, Black Country, New Road, Cate Le Bon and Mitski all release their latest albums tomorrow, Feb. 4, making an early case for 2022's single most stacked release day. That means there's no time to waste—get psyched with us below.
Feb. 4
Animal Collective: Time Skiffs
Domino
Animal Collective are returning this week with Time Skiffs, their first new album in over five years. Noted in press materials as being reminiscent of their acclaimed Strawberry Jam, the LP's first preview came in the form of "Prester John," a hypnotic single made up of two songs combined. Diehard fans may recognize all but one Time Skiffs track, as they have been played live before. Regardless, the band always have some interesting tricks up their sleeves. —Jade Gomez
Black Country, New Road: Ants from Up There
Ninja Tune
Buzzy London-based band Black Country, New Road wasted no time in following up their debut album For the first time, one of Paste's favorite records of 2021. They announced their second effort Ants From Up There in October, and have since shared four acclaimed singles, "Chaos Space Marine," "Bread Song," "Concorde" and "Snow Globes." As we wrote upon that third track's release, "Black Country, New Road's new songs find them maturing in a hurry, leavening their crashing, jazzy post-punk with a newfound restraint." The album's release is bittersweet, coming immediately on the heels of vocalist Isaac Wood's departure from the band, which makes the music itself all the more precious. —Scott Russell
Cate Le Bon: Pompeii
Mexican Summer
The sixth full-length studio album from Welsh singer/songwriter Cate Le Bon finds her returning to the ancient past so as to root out new insights into our apocalyptic present. She does so via vibrant, synth-laden art-rock that feels both hallucinatory and clearheaded at once—she wrote the album primarily on bass (and performs all of its instruments except drums and saxophone), which lends it an ever-present burbling low end. Meanwhile, Le Bon's lyrics eschew black-and-white doom and gloom in favor of more obliquely cosmic considerations: "Sound doesn't go away / In habitual silence / It reinvents the surface / Of everything you touch," she contends on atmospheric opener "Dirt on the Bed," which might as well be a mission statement. An album equally suited to studying the present moment and escaping it, Pompeii is another transcendent effort from a singular songwriter. —Scott Russell
Mitski: Laurel Hell
Dead Oceans
Mitski is always beckoning, no matter how she may recoil. Her work stacks contradictory compulsions: She wants, and wants to be wanted; at any moment, she'll offer herself up, or be taken, or take. She has all the power, and none. She can't have enough or be enough for even herself. A laurel hell, the namesake of her latest album, is a maze where thickets of beautiful flowers grow knotty and impassable, the plants poisonous. Laurel Hell also evokes resting on one's laurels—getting lazy or complacent about future achievements because you're focused on past success. It's almost ironic to consider this '80s-electro-rock turn unfinished or lax, but such self-criticism is ingrained in Mitski's work. As she wades into the maze of performance, she's continually choked by her own ceaseless desire, the enticing flowers disguising the plant's vicious, toxic acid. Laurel Hell encapsulates the parasitism inherent to performing for consumption and then being consumed. Videogame-glitchy track "Love Me More" is a nod to toxic fandom—something that contributed to Mitski's departure from social media—as well as the music industry churn. Twinkling synths emulate the inevitable climb: releasing art for yourself, needing fans' love to buoy that art, and ultimately becoming overwhelmed by that very love. —Caitlin Wolper
More notable Feb. 4 releases: 2 Chainz: Dope Don't Sell Itself, A Place to Bury Strangers: See Through You, Bastille: Give Me The Future, The Districts: Great American Painting, Hippo Campus: LP3, Korn: Requiem, Los Bitchos: Let the Festivities Begin!, Marissa Nadler: The Wrath of the Clouds EP, Partner Look: By the Book, The Reds, Pinks & Purples: Summer at Land's End, Rolo Tomassi: Where Myth Becomes Memory, Saba: Few Good Things, yeule: Glitch Princess
Feb. 11
Big Thief: Dragon New Warm Mountain I Believe In You
4AD
With their forthcoming double album, Big Thief—Adrianne Lenker, Max Oleartchik, Buck Meek and James Krivchenia—set out to capture the many facets of their sound on one record. Their pursuit of that ambitious goal spanned four recording sessions in four different states across five months, producing 45 finished songs the band then pared down into Dragon New Warm Mountain I Believe In You's 20 tracks. They've shared eight (!) of those songs already in the form of singles "Simulation Swarm," "No Reason," "Spud Infinity," "Time Escaping," "Little Things," "Sparrow," "Certainty" and "Change," revealing the stunning scope of their career-defining UFOF and Two Hands follow-up. —Scott Russell
Empath: Visitor
Fat Possum
We've previously hailed Philadelphia quartet Empath as guitar-rock innovators, a reputation they continue to live up to on their second record, Visitor. The album's disparate array of inspirations includes the Nosferatu (1922) and The Wicker Man (1973) scores, David Bowie's Low and the band's "forever favorites" Fleetwood Mac—meanwhile, in an effort to top the range of sounds found on their 2019 debut Active Listening: Night On Earth, Empath sampled "films, Minecraft, a cassette of nature sounds from the Bayou, recordings of an air conditioner, and a church choir heard through the walls of the warehouse we rehearse in" in their new songs, per lead singer Catherine Elicson. Visitor was produced by Jake Portrait (Unknown Mortal Orchestra), making it the first release Empath have recorded in a formal studio with a producer, and as singles "Passing Stranger," "Diamond Eyelids" and "Born 100 Times" have shown, that lends a new polish to their continually shifting, yet satisfying sound. —Scott Russell
Shamir: Heterosexuality
AntiFragile Music
Indie-rock artist Shamir is currently one of the genre's most daring artists, and the singles released thus far, "Cisgender," "Gay Agenda" and "Reproductive," bring together two different worlds, combining industrial music with bubbly pop to create a confrontation of Shamir's sexuality on his forthcoming album Heterosexuality. In a statement, Shamir shared, "I think this album is me finally acknowledging my trauma. Everyone knows I've been through so much shit and I kind of just rammed through, without really acknowledging the actual trauma that I do feel on almost a daily basis." Heterosexuality, with help from Strange Ranger's Hollow Comet on production, reimagines the bittersweet pop and scathing rock of the '90s for a modern interrogation of Shamir's identity and artistry. —Jade Gomez
More notable Feb. 11 releases: Alt-J: The Dream, Amos Lee: Dreamland, Eddie Vedder: Earthling, Frank Turner: FTHC, Jason Mraz: Lalalalovesongs, Mary J. Blige: Good Morning Gorgeous, Sea Power: Everything Was Forever, Spoon: Lucifer On The Sofa, Trentemøller: Memoria, Voivod: Synchro Anarchy, Vundabar: Devil For The Fire
Notable Feb. 16 releases: Alice Glass: PREY//IV
Notable Feb. 18 releases: Beach House: Once Twice Melody, Big Nothing: Dog Hours, The Body & OAA: Enemy Of Love, Del McCoury Band: Almost Proud, Hurray for the Riff Raff: Life On Earth, Khruangbin & Leon Bridges: Texas Moon EP, Lavender Country: Blackberry Rose, Methyl Ethel: Are You Haunted?, Metronomy: Small World, Pike vs. The Automaton: Pike vs. The Automaton, Sarah Shook & The Disarmers: Nightroamer, Shovels & Rope: Manticore, Tennyson: Rot, Various Artists: Ocean Child: Songs Of Yoko Ono
Feb. 25
caroline: caroline
Rough Trade Records
London-based band caroline are finally releasing their eponymous debut album after half a decade of being a band, with half of that time being cloaked in mystery. They finally came out of the woodwork in 2020 to announce their signing to Rough Trade, and after a handful of incredible singles, including "Skydiving onto the library roof" and "IWR," the octet will finally release an album painted with the eclectic grab bag of influences they draw from, whether it be Midwestern emo or Appalachian folk. Caroline are one to watch in 2022. —Jade Gomez
Gang of Youths: angel in realtime.
Warner Records
Seeing as we've already included three angel in realtime. singles in our weekly Best New Songs picks, including the most recent one on our Best Songs of January 2022 list, it's safe to say that we're hyped for Gang of Youths' third full-length release. The album will be the Australian band's first in five years, following 2017's critically acclaimed Go Farther in Lightness, and comes after multiple versions of the album had already been scrapped, according to an interview the band did with NME. What we've heard already finds frontman David Le'aupepe reaching for the ethereal; "Ah, there's heaven in you now," he repeats at the close of "the angel of 8th avenue" as a fittingly heavenly musical swell rises around him. Even the darker lyrical moments are wrapped up in those moments of catharsis that feel otherworldly. It's exciting to think about where their flight through the unknown will take us next. —Elise Soutar
SASAMI: Squeeze
Domino
Los Angeles-based songwriter SASAMI has utilized the pandemic to create a hard-hitting follow-up to her 2019 self-titled debut. On Squeeze, SASAMI forgoes shoegaze for grunge and nu-metal influences, accompanied by some terrifying visuals. The songwriter was partially inspired by the Japanese folk spirit Nure-onna, who possesses the head of a woman and the body of a snake (which SASAMI channels in the artwork for the album). —Jade Gomez
More notable Feb. 25 releases: Avril Lavigne: Love Sux, Bambara: Love On My Mind, Basia Bulat: The Garden, Carson McHone: Still Life, Dashboard Confessional: All The Truth That I Can Tell, Holodrum: Holodrum, Johnny Marr: Fever Dreams Pts. 1-4, Judy Collins: Spellbound, King Hannah: I'm Not Sorry, I Was Just Being Me, Mom Jeans: Sweet Tooth, Pixies: Live In Brixton, Robert Glasper: Black Radio III, Soft Cell: *Happiness Not Included, Spiritualized: Everything Was Beautiful, String Machine: Hallelujah Hell Yeah, Superchunk: Wild Loneliness, Swamp Dogg: I Need A Job… So I Can Buy More Autotune, Tears for Fears: The Tipping Point